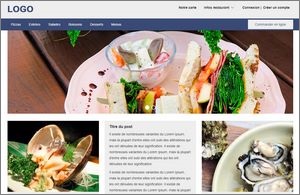 LivePepper has updated its pre-designed templates, available with no setup costs.
Available for restaurateurs who seek a turnkey, customizable online ordering site for their restaurant, this new design is now more up-to-date and attractive than ever.
New templates that are up-to-date…
LivePepper's free templates have been given a makeover to bring visitors on your online ordering site an even more enjoyable experience with:
a more modern style,
greater priority to images,
contact details that are always accessible,
an enhanced access map,
products that are better highlighted.
The updates made will allow you to modernize and enhance the appearance of your virtual shop window in just a few clicks.
See the new templates available below:
… and customizable!
LivePepper's free templates for your restaurant's website can all be customized. You can thus personalize any of the 10 predefined themes, by changing:
the content (texts describing your brand and your philosophy, photos of your restaurant, images of your dishes and your products, etc.)
the colours, by area (banner, background, buttons, text areas, etc.)
the banner with your logo (located at the top of your site)
your site's favicon (the icon that illustrates your website)
Note that, by default, your site's background is solid (in the colour you define). However, if you like, you can ask to insert a more figurative visual (for example, a photo with tomatoes or cheese) or with a texture effect (slate, wood, etc.).
If this option appeals to you, contact our team who will take care of freely integrating your standard site in line with your colours. Contact our team without further ado to discover the new LivePepper templates.