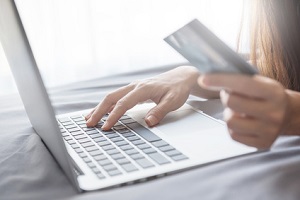 To pay for their future online orders, you customers can credit the amount of their choice on your restaurant's online ordering site.
How does the customer credit feature work?
This feature lets your customers deposit money on your online ordering site via their credit card. They can then use this credit whenever they like to pay for their purchases on your restaurant's e-commerce site. The money deposited by customers is immediately available in full on your bank account. One way to encourage your customers to credit their accounts on your site is to set up an incentive: e.g. an automatic 10% bonus for any deposit of more than €50. This means that when the customer deposits €50, their initial balance will actually be €55.
Unprecedented possibilities for your customers
Your customers' accounts on your restaurant's online ordering site can also be credited manually via the back office. Thus, for example, you can invite your customers to credit their meal vouchers to transform them into credit on your site. Besides these new possibilities, customer credit allows users who place online orders in your restaurant to buy in just a few clicks, thus gaining time during the payment process: they simply use their available credit to pay for the order. For you the restaurateur, this feature is an additional way to boost your revenue by offering your customers a new payment method that is both practical and intuitive. Contact LivePepper to add this feature to your online ordering site.