An ordering kiosk for your restaurant, whatever its size
Contrary to some popular belief, fast-food giants do not have a monopoly on restaurant ordering machines. It is indeed appearing in brands of all sizes, with sometimes very different profiles and positioning. With its ordering kiosk for restaurants, LivePepper adapts to the constraints and budgets of all types of establishments:
small or big points of sale;

inside and/or take-away sales;

independents, chains, franchisees;

restaurants with or without an online ordering site;

etc.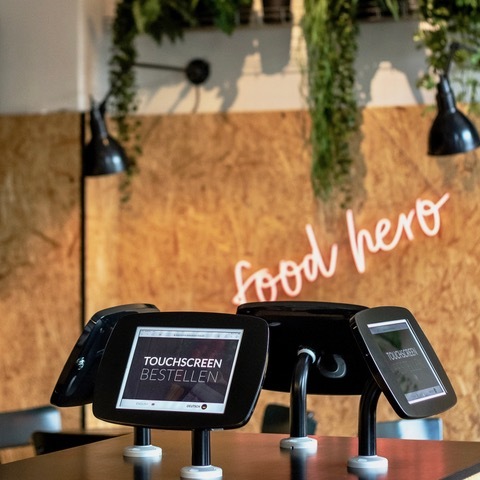 The kiosk can complement restaurant or counter service, or be offered as the only ordering method. In the same way, it may or may not be coupled to an existing online ordering site. There are therefore no prerequisites necessary to equip yourself with a restaurant ordering kiosk… or several. And it is not just a fad: restaurant owners and consumers have good reasons to adopt it.
Why equip yourself with a restaurant ordering kiosk?
On the restaurant side
The restaurant ordering kiosk is first and foremost a real asset in terms of organizational efficiency. Because it reduces waiting and harmonizes the flow of orders, it is synonymous with fluidity. But it also has other benefits for restaurant owners:
moderate investment and limited cost, even for a small point of sale;
better management of the rush, in particular for the midday service;
a limitation of human errors in order taking;
the possibility of mobilizing staff to other positions (preparation, maintenance, etc.);
increase in the average basket thanks to incentive offers ("upselling");
the provision of additional communication support for advertising or promotion;
the possibility of integrating certain POS systems into the kiosk;

etc.
Do you have an online ordering site? Your restaurant's ordering kiosk can take over its functionalities, such as rush hour management, for example. It also includes ordering as a guest, convenient to order even without having a customer account.
Customer side
Then, the ordering kiosk for restaurant signed LivePepper has something to seduce its users. In general, the latter praise its practicality and intuitiveness. Their customer experience is generally improved with:
significantly shortened queues;
fast order taking, in just a few clicks;
photos and detailed information on the composition of the products;
easier customization of products;
a low risk of error, which generates less dissatisfaction.
Add to this that the restaurant ordering kiosk can integrate a menu in several languages. As a result, the experience is also simpler and more pleasant for foreign customers.
Ordering kiosk for your restaurant: a bespoke tool
After presenting it in outline, let's look at the appearance and ergonomics of the LivePepper restaurant ordering kiosk. In order to meet all needs, this can take two forms:
the terminal in "classic" format, at eye level, with a large screen;
the terminal for tablet or pad, at hand height, generally more compact.
In both cases, the technical possibilities offered by this tool are identical, as are the features available. Some of them are offered as an option, such as:
printing of the ticket or receipt;
payment integrated into the terminal.
Finally, the quality of experience largely depends on the graphics of your restaurant's kiosk. Thus, you can choose its graphic charter from 12 predefined color sets and provide beautiful photos to import. 
Are you interested in the LivePepper restaurant ordering kiosk but you would need advice? Would you like to equip your restaurant with one or more order and payment kiosks? The LivePepper team answers all your questions. Please contact us now to find out more about our services (contact@livepepper.com).