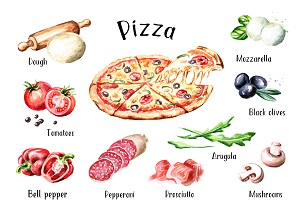 Ingredients personalization is one of the most appreciated offers for online ordering customers, who can remove or add products depending to their tastes. LivePepper will make simple any limits on this bespoke composition.
Removing or adding ingredients: define the quantities authorized for online ordering
Do you want to keep control over the personalization of your products ordered online? LivePepper allows you to preselect any changes allowed on your restaurant's website. Above all, offering to you the opportunity to configure the maximum number of toppings selected, or ingredients removed.
Good news! This limitation on add or remove ingredients is now included in the standard LivePepper subscription fee of €69. Every customer is able to benefit for free! Regardless of the plan taken out.
What happens if a customer removes too many ingredients?
Here, the restaurant owner has chosen to limit the maximum number of ingredients to 2, as a result this will be removed when ordering online. Here's an example of what his/her customer will see if they try to delete a third one:

How does the limitation on toppings apply?
For each online order placed on your restaurant's site, you can also choose the quantity of toppings authorized. If a customer exceeds this limit, however, he/she is immediately informed:

In both cases, the user of your online ordering site cannot confirm his/her choice beyond the limits set. No risk of error … No abuse!
A very practical feature for restaurants that offer online ordering
No matter what the restaurants provide; the "limitation of ingredients to add or remove" feature is adapted to everything. It guarantees restaurant owners perfect control over online ordering, from composition to preparation.
To conclude, this must not be confused with another  feature that deals with the rule applied in case of ingredient exchanges. With the latter, the restaurant owner can choose how to charge for the exchange of one ingredient for another. Either, by charging the customer for the added ingredient in full, or by charging them only the difference with the removed ingredient.
Do you want to learn more about this feature or need help setting it up? Your LivePepper team can answer your questions. We will support you, day after day, in the management and optimization of your online ordering site (contact@livepepper.com).