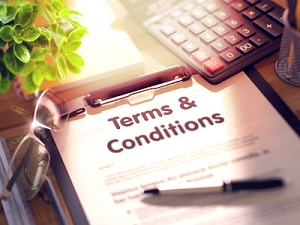 As a restaurant business or any business, you must clearly set out the terms and conditions of using and interacting with your website. Failure to do so risks being misunderstood, or misinterpreted which could have a negative impact. If you take online orders via your website you need to establish this anyone who does so is bound to the T&C's by keeping them clear and present on your website.
Think of the terms and conditions as a recipe book or manual for using your website, app, and/or becoming a customer through online bookings or orders.
At the beginning of the T&C's page, you should clearly state that by placing an online order, customers are agreeing to the T&C's and if they do not agree with anything written on the page, they should not place an order. You can also list what the T&C's cover; the use of the website/app, how you use and protect visitors/customers information.
These can be bullet points to summarise the main areas covered.
Company Details
Start by listing all of your company information, such as your registered address, company number, and VAT number. You can also clearly state what your business is and how you operate.
Age Restrictions
If any of your products or services include age restrictions, these should be included next. This could extend to creating online accounts, entering competitions or placing orders online.
The Ordering Process
Explain the process of placing an order online as a customer. What information will they need to provide and how is the order confirmed? Do you email or SMS message the customer to confirm their order? Include the exact process and explain that failure to provide certain information such as name and address will result in the failure to place an order. You can also mention the process for placing orders elsewhere, such as in store.
Nutritional & Allergen Information
If you don't list full ingredients, or include full information regarding allergens on your website, you need to make this clear in your T&C's and provide a phone number to contact for questions relating to this. If there are any issues with allergens and placing orders online you must state that anyone with allergens should not order online under any circumstances, but instead phone your restaurant or visit in-store.
List any of the information in relation to the food products you sell and how they are prepared, where relevant. E.g, information regarding cooked meats.
Service Availability
Clearly explain the availability for fulfilling orders, including the delivery process and procedure for waiting times. Anything else in relation to the service you offer and the way you do so.
Cancellations
State the time-frame in which someone has the right to cancel their order or booking and in the circumstances that they are able to do so. Make it clear at what point they no longer have the right to cancel.
Price & Payment
This section should cover that prices are those stated on the website when placing an online order. Do they include VAT? You can mention that prices will occasionally change. Include a sentence or two about how payments are taken and processed.
Written Communication
In this section, you must state that the law requires certain communication to be in writing, but by using your website, the visitor is agreeing to that communication will be electronic. If you will contact customers via email or SMS, state this here.
Legal Sections
Severability, the variation of T&C's and law and jurisdiction. These can be the final three areas of the terms and conditions. Under severability, you only need to state that each paragraph operates separately and the information in each paragraph should be taken on an individual basis. Under 'Variation of T&C's' you must state your right to change and amend the content within the T&C's. Under 'Law & Jurisdiction' you must include a reference to the law that governs your business; presumably English law. State here that any dispute or claim will be subject to the jurisdiction of the courts of England and Wales.