Static pages improve your online ordering site's SEO
As the name implies, static pages are webpages whose content does not vary when visitors browse or query them. Generally used to complete your main pages, these additional pages can be added from your online ordering site's back office where they appear among the various tabs: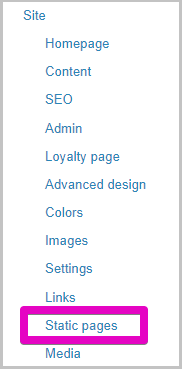 While your restaurant's customers may not necessarily need to view them to find the information they are looking for, Google consults these static pages to find the keywords that will define your site's SEO. So it's important to tap into their full potential and give careful consideration to their content, which will prove to be strategic for improving your presence and ranking in the search results.
Where to find and define your site's static pages
A website's static pages are generally found at the bottom of each page, as clickable links. They may also be positioned at the top of the page, next to the menu. However, we recommend placing them at the bottom, as illustrated in the example below: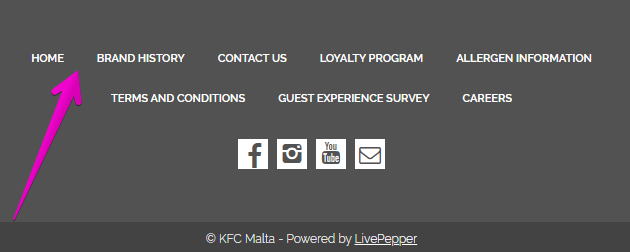 From your online ordering site's back office, you can configure these static pages as appropriate. Note, however, that if you copy & paste the text from a Word document, for example, you will have to do so in the source code to avoid any changes to the layout (fonts, etc.). You do this by clicking on the dedicated < > button.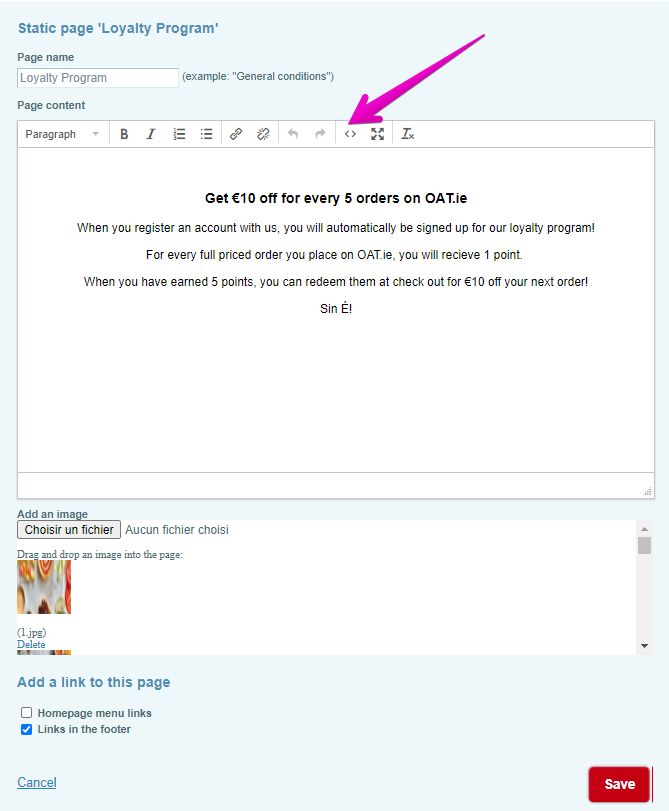 Once you have copied and pasted your text, you can format it as you like.
Info and content: what should static pages contain?
Considering that their content largely determines your SEO, the information in your static pages should, wherever possible, contain the keywords that figure on your restaurant's online ordering site and/or your corporate website: "Pizza Oxford", "Takeaway pizzas", "Pizza delivery" etc.
The LivePepper teams advise you to create 2 to 3 static pages, each containing 1 or 2 paragraphs. For example, you can use them to provide the following information:
Details of your

loyalty programme

;

Your

general terms and conditions of sale

and/or your privacy policy;

Your

business hours

;

Your

terms of delivery

;

Who are we? Our values, our philosophy, etc.

Your

menus

;

Additional information about

food allergens

;

etc.
LivePepper also offers a web writing/drafting service if you are short on time or inspiration to write your static pages yourself.
Basically, the static pages on an online ordering site offer three important advantages: they improve your SEO, they are easy to set up and edit, and they provide Internet users with the information they need.
Want to learn more about static pages and how to set them up on your restaurant's online ordering site? Our support team (support@livepepper.com) is there to answer your every question!