On your back office, one more feature to manage the online ordering
To continue to improve your customers' online ordering experience, the LivePepper's team has developed a feature that applies to your delivery preparation time.
This option is displayed in the basket of the user who completes its scheduled online order the same day. The time slots will be discontinued: the client automatically benefits from the "ASAP" option, which concerns delivery.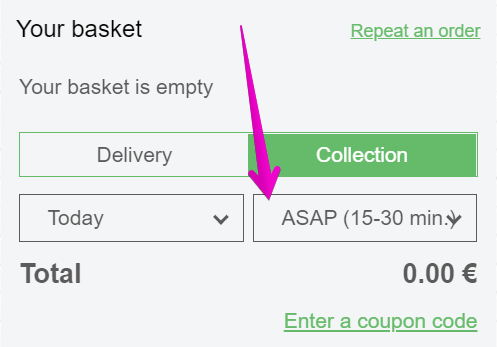 Online ordering "ASAP": simple configuration in a few clicks
In the delivery settings, each restaurant owner specifies the deadlines he (she) wishes to apply for this option "ASAP". You can thus indicate:
the preparation time to plan for an order ;
a minimum (optional), irreducible duration, which corresponds to the required time for the preparation of an order ;
when you wish to offer this option.
Once purchased, you can turn this feature on or off as you wish, for maximum flexibility and freedom. When implemented, this feature is advantageous especially in the case of the delivery because your customers don't have to choose the time slots and save their precious minutes. We do not recommend it for collection because it is difficult to anticipate the time at which a customer will come to pick up his (her) order which may have cooled down by the time it is collected.
There is only one condition to be aware of: this option is not compatible with the rush hour management feature, which is used to temporarily limit the number of orders and / or products on your restaurant's online ordering site.
Would you like anymore information about our features? Do you need more details on the management of your LivePepper's back office? Our team is at your disposal to answer all your questions (contact@livepepper.com).