Offering set menus and promotions
Whether you opt for set menus, promotions or some other means, you have a number of choices, not only to attract new customers, but also to ensure your existing customers' loyalty.
Set menus
No matter whether your restaurant sells pizzas, burgers or Indian food, opting for set menus is always a wise choice.
Examples of set menus to adopt
Lunchtime menu: 1 main dish + 1 dessert + 1 drink
Menu for two (2 main dishes + 2 desserts + 2 drinks)
See other examples (in French) of set menus on the Rapizza site here.
Set menus without pop-ups
With the LivePepper online ordering solution, pop-ups can be removed when selecting the items in a set menu. Customers thus select their menu in successive steps (Item 1 >> Item 2 >> Item 3) for an improved, easier browsing experience.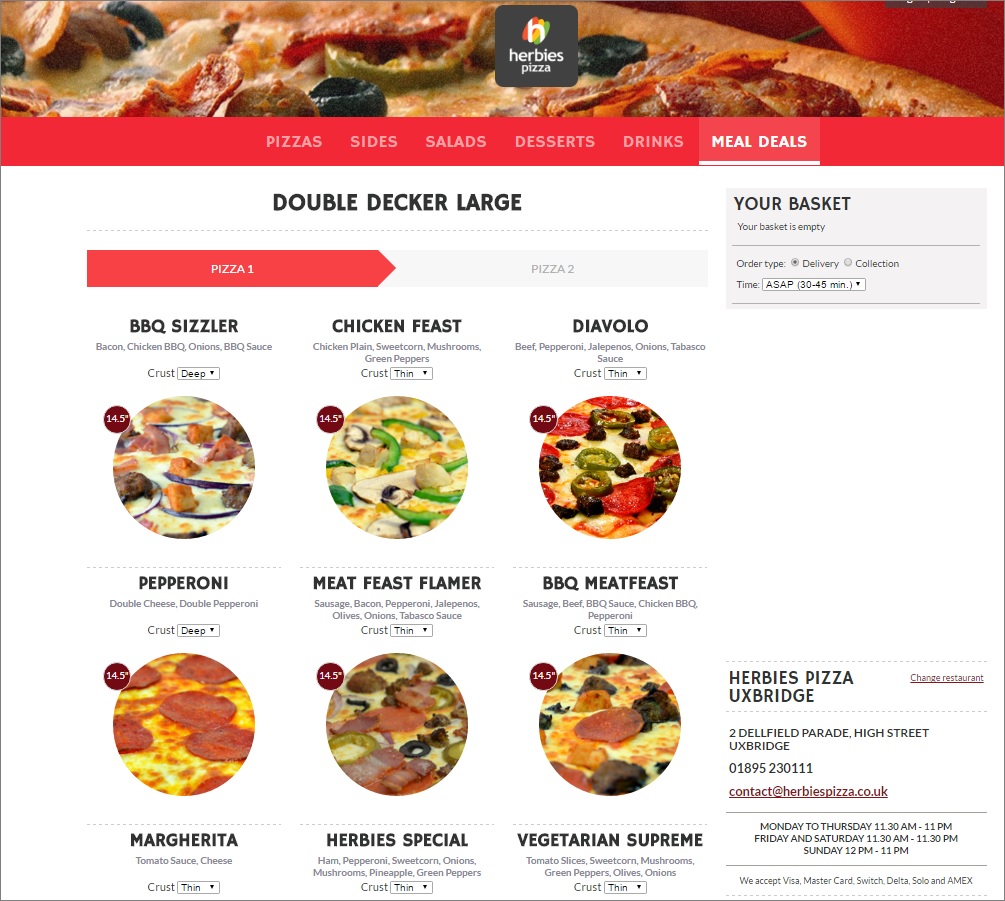 Promotions
Customers, both loyal and potential, are always on the look-out for a good deal and will invariably be receptive to promotions. In fact, promotions help foster customer loyalty – customers will be more inclined to come back to your restaurant if it offers promotions. Promotions also help to attract new customers and increase demand.
Examples:
Herbies, "30% off first time buyer". See the promotion (scroll down on the home page)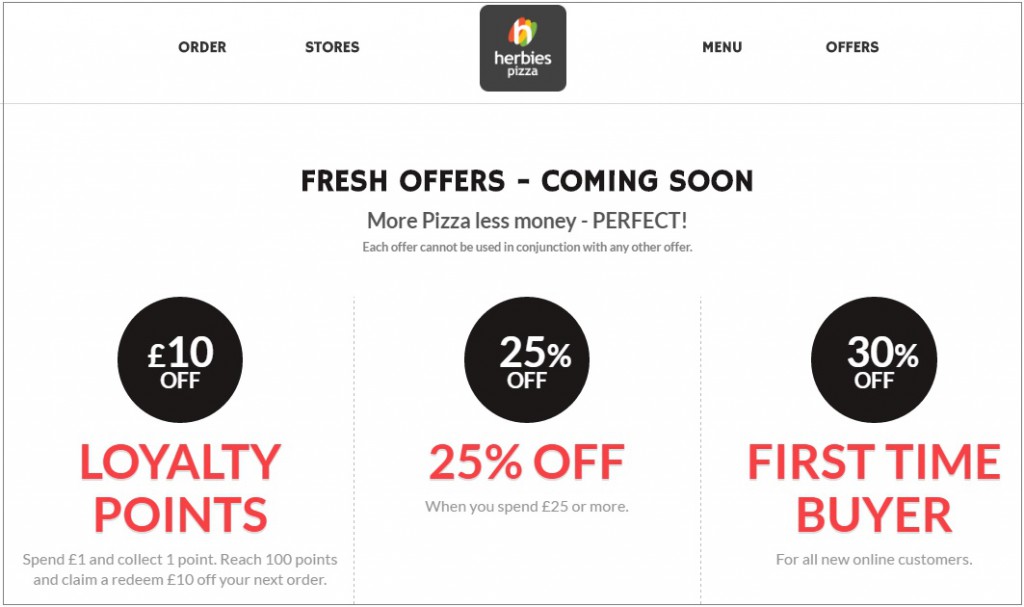 Firezza, "Buy 1 x 12″ pizza + 1 side or 1 dessert for £16.49". See the promotion (clickable promotion in the right-hand column)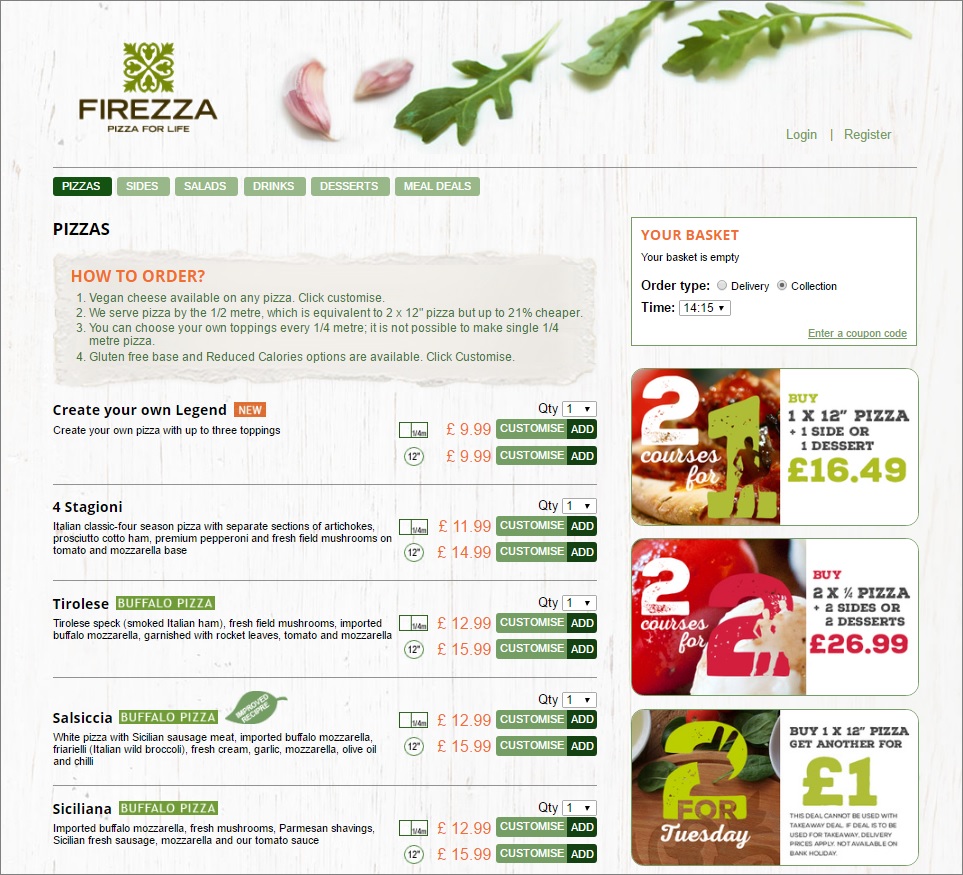 The LivePepper solution offers you a flexible management system so that you can easily define and control set menus and promotions.
You can thus define the following yourself:
The structure of your offer: discount as a percentage or in cash, free item, coupon code, etc.
The discount amount/percentage
What the discount applies to: individual items (you define which) or the entire order
Promotion validity times and dates
Whether or not the offer can be combined with other discounts
A minimum order amount above which the offer applies
Different offers by outlet (if you have more than one outlet)
Different offers depending on your services (delivery, takeaway, etc.)
If you wish to set up clickable promotions (like Pizza Sprint or Speed Rabbit), contact us directly to find out more: asmolen@livepepper.com
Use upselling to increase customers' average basket
You may well wonder whether suggesting additional products incites customers to buy more… Upselling boils down to increasing your customers' average purchase (usually by between 5 or 10%) by inviting them to add a starter or dessert, a bigger drink, or an additional item to benefit from a set menu… You are effectively "pushing" products to your customers. Via a clearly visible message displayed below the basket or at the end of the order, your online ordering site can prompt customers to add extra items after an analysis of their basket's content.
Examples of upselling
Homeburger
A pop-up appears before the customer places the order. See for yourself (order a "SPECIAL: ARC DE BRIE-OMPHE", then click on "Add to order"; notice how a pop-up appears, inviting you to add a side of your choice).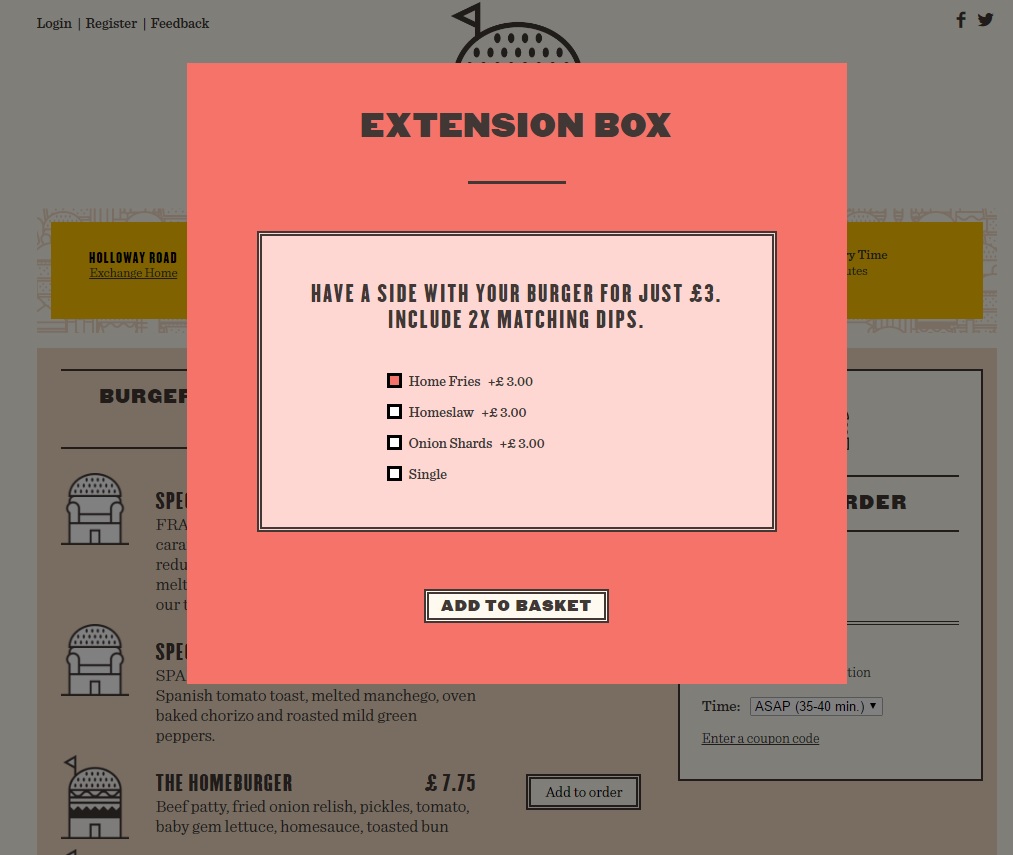 Mambo Pizza
When you add a salad to your basket, a message is displayed inviting you to buy a menu. See for yourself (add a "Niçoise" salad to your basket).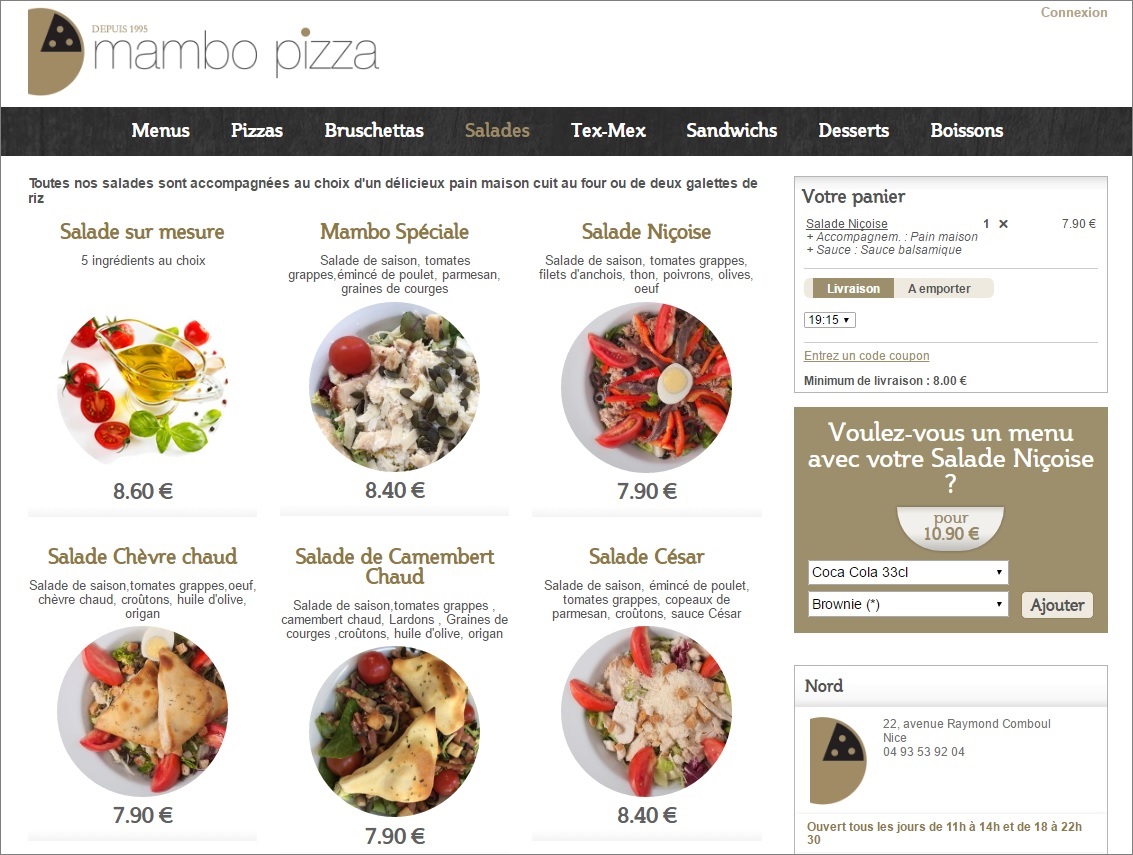 Secure your customers' loyalty
Inviting your customers to subscribe to a loyalty programme will encourage them to come back. With the LivePepper solution, you manage your loyalty programme freely and independently. You decide which rules to apply for acquiring and using points. To optimize your loyalty programme, oft for a straightforward offer with a clear message to reward your customers and make them want to come back for more. Your customers can also view their points "balance" whenever they like, and even cumulate discounts (you decide on the settings).
For example, you could set up the following types of rule for acquiring points:
1 point per euro spent
or 1 point per order
or 1 point for certain items purchased
And then the following types of rule for using points:
10 points for a free item
or 10 points for a €10 discount
Increase your visibility
Remember to use all the tools at hand to promote your offers:
newsletter
blog
website
forums
and especially social networks
These are all good vehicles, provided your message is appropriate and relevant. Remember, the idea is to be visible all the time, and to as many people as possible.
With the LivePepper solution, you can easily integrate your offers with the social networks: Facebook, Google Adwords, Twitter… The Adwords service, for example, distributes your advertising campaigns in your catchment area. Sales made are subsequently fed back to Adwords to analyse your return on investment. Or you can gauge the yield of your Facebook advertising by feeding back visits and orders to Facebook.