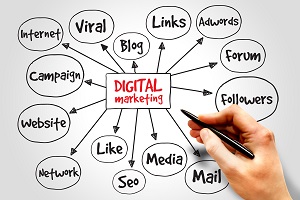 Short on time or inspiration to promote your brand, your products and your services? Whether for your online ordering site's content, your online presence or your communication tools, the LivePepper team now offers comprehensive marketing support via a wide choice of services depending on your goals and needs. 
Enhance your restaurant website's content with LivePepper
Today, a website is essentially a virtual shop window. As such, its presentation is just as important as that of your physical point of sale. Your restaurant's image is directly reflected in this interface, which explains why you must tend to it and make sure it includes high-quality text and images.
LivePepper provides the following services for this purpose:
a Web Editor

with whom we put you in contact. This specialist in web writing will work with you to prepare the editorial content of your homepage and your "About" page;

photo packs

, if you don't have any photos of your products, or if you have no plans for a photo shoot any time soon. LivePepper offers to purchase copyright-free photos that correspond to your menu, and then format and tailor them to your online ordering site.
Help to improve your online presence and your search engine optimization 
Having an attractive site is one thing, making sure Internet users find it is another! This is the purpose of search engine optimization (SEO), which determines your site's positioning, not only on Google and other search engines, but also on social networks – which allow you to communicate directly with your customers.
LivePepper can help you increase your online visibility via:
advanced SEO

, an additional tool to boost your site's search engine optimization. This new feature improves the position of your restaurant's online ordering site thanks to an advanced description of each page, based on its content (not a single description for every page).

support with Google Ads

when you launch your online ordering site. Google Ads campaigns improve your site's visibility on Google when an Internet user enters one or more keywords corresponding to your activity. This in turn will increase the chances of converting visitors to customers! LivePepper sets up your account, configures your campaigns in line with your keywords, and monitors their development and their return on investment;

community management

, to promote your online ordering site on social media platforms (Facebook, LinkedIn, Instagram).

By drawing on our creative skills and expertise, we suggest the most appropriate strategy, take care of your posts and set up your advertising campaigns. 

Waze Local

, to make your advertising campaign unavoidable thanks to two formats implemented by LivePepper on this mobile app: branded pins, used to generate local notoriety by referencing your restaurant directly on the app's map (with the possibility of only showing the pins during your brand's business hours); and the complementary Search format, which highlights your brand via a banner.
Different communication tools to promote your brand
In addition to the Web, make sure you don't overlook all the "classic" channels of communication – still essential for promoting and shaping your image and retaining the attention of existing or prospective customers.
Our team of professionals offers a number of tools in this respect:
e-mail campaigns

, which LivePepper takes care of creating and managing, to promote your online ordering site, your latest offers, your seasonal promotions and all your news;

communication kits

, vital when you launch your website. We can also prepare flyers, business cards and posters, all designed by our graphic designers and integrating your personal visuals and logos. 
Are you about to launch your restaurant and wondering how to promote your online ordering site or boost your business? Contact us without delay to benefit from our marketing support and achieve your goals!