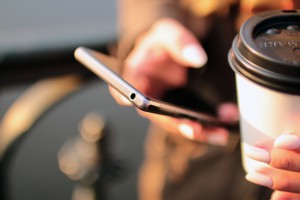 Online ordering has become all-important for most restaurants. Not only is it a means of satisfying and securing the loyalty of your customers, it also helps you to increase your productivity. Given the expectations and uses of today's consumers who are increasingly reliant on mobile devices, and who invariably want everything to go faster, online ordering is evolving towards a simplification of the purchase and ordering process.
One-click ordering, the undisputed star of online ordering
Made popular by Amazon, one-click ordering has since been adopted by an increasing number of brand names, and in all fields. The reason is simple: the less information uses have to give, the less the chance of them abandoning their order. In the restaurant industry, for example, a new app by Domino's Pizza, called Zero Click, goes so far as to automatically trigger your favourite orderů and gives you 10 seconds to cancel.
Without going quite that far, the idea is above all to optimize the ordering process in order to increase your conversion rate.
Optimizing the online ordering process
Offering a one-click ordering service along the lines of the Domino's Pizza app will not be possible for all restaurant managers. Nevertheless, there is nothing to stop you from optimizing your online ordering process to facilitate buying and encourage customers to come back for more.
When the customer first registers, only ask for strictly necessary information
When customers create an account, only ask them to provide the strict minimum, namely:
First and last names
Delivery address
Phone number
E-mail address
Account password
Saving customer data
To facilitate order taking, it is important for your customers to only have to enter their e-mail address and password once they return to your site, or to be able to use their Facebook login. Their delivery address will already have been saved, which means they can confirm their order with just a click.
Enable customers to repeat their previous orders
Keeping an order history will allow your customers to quickly repeat a previous order. This feature allows users to gain time and may even prompt them to place orders more often. With the LivePepper solution, the order history is stored for a period of 12 months. A customer who logs in via his or her account will thus be able to repeat an order already placed, or choose just one of the items from the order in question.
List of favourites
You can insert tags (as stars or hearts) next to each product to allow customers to add this product to their list of favourites. This list will then be quickly accessible from the main menu, and will allow customers to find the corresponding product more quickly.
Offer a responsive website 
A responsive website makes life much easier for smartphone and tablet users. Above all, by offering a seamless, pleasant experience, it will avoid them giving up on their order.
Keep every step in the order visible
Being able to see the steps will encourage the customer to continue with the process, as is the case with Speed Rabbit:
Simplified payment
Simplifying the purchase also means simplifying the payment. This involves a number of factors: the speed of the transaction, the reassuring character of the security logos, and the various payment options available to the consumer. Payment by bank card continues to be the most widely used online payment method, however customers with a PayPal account can use PayPal on your LivePepper online payment site.
Save the customer's banking details
To facilitate repeat purchases, saving the customer's bank details is a differentiating factor that will boost online ordering and help to secure customer loyalty. This facility is not limited to the restaurant industry, since you will find it on most travel websites. The LivePepper solution offers to set up this feature.
Conclusion
These points are all valid for most e-commerce sites, not merely restaurant sites. Their effectiveness has already been proven in many market sectors on the Web. As for online ordering, it represents a tool that will help to increase business for restaurants. Bear in mind that this ordering method is evolving towards express ordering (i.e. placing an order as quickly as possible), where every effort is made to allow customers to order quickly and repeatedly, whether from home, work or on the move.