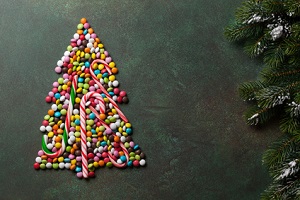 As Christmas and the New Year draw near, customers are often more willing to throw caution to the wind and spend more than they usually would.
All restaurants – whether they offer takeaway food or eat-in gourmet menus – can make the most of these consistently observed end-of-year consumption peaks.

The key is offering suitable dishes and tailored formulas, and knowing how to effectively inform customers of these festive events.
Which restaurants reap the benefits of the December period?
Even if, traditionally, caterers and gourmet restaurants are the ones most likely to boost their end-of-year takings, all restaurants can reap the potential benefits to be had from this festive period. A survey conducted in December 2013 by The NPD, one the world's leading market research companies, revealed the following for the last month of the year:
1 meal in 5 is taken in a fast-food restaurant (versus 1 in 6 the rest of the year);
traditional eat-in restaurants see their share of adult group bookings increase from 69% (annual average) to 74%.
These figures underscore the following observation: you can boost your sales no matter what your speciality and your positioning, in particular by making the most of the fact that consumers like to enjoy themselves over the Christmas period, and to allow others to do so at their expense: parents for their children, business managers for their teams, etc. To turn this season to advantage, establishments must adapt and innovate by focusing on originality and on high-end products, or by adopting aggressive commercial strategies.
Some ideas to boost your end-of-year sales
While an online ordering service clearly faces issues that differ from those of a traditional table service, the most effective commercial techniques are valid in both cases. Here are some suggestions to encourage your customers to spend more on your site.
Obviously, this is all about offering thematic menus inspired by the festive season and based on exceptional products. To respond to consumers' expectations at the end of the year, you should focus on quality, not necessarily quantity. Thus, for example, you can incorporate special Christmas formulas and all-inclusive offers for a festive meal.
Play it unconventional: even a hamburger can be transformed into a festive dish, for example by including a slice of pan-fried foie gras! The same goes for pizza and sandwiches: why not incorporate some traditional Christmas dishes into your meals, such as roast turkey with cranberry sauce? By all means highlight "limited-edition" products associated with the festive season: smoked salmon, mulled wine, mince pies, yule log, etc.
Another strategic idea: remember your "business" customers. Christmas is the season where business leaders reward their employees and invite their customers. By concocting some tailor-made formulas ideal for a business lunch or dinner, you are likely to appeal to customers who may not otherwise have thought of your establishment for their celebratory meals, and who will be won over by the originality of your offer.
Also, don't forget gifts in this season for sharing! You can incorporate different sorts of gifts into your online ordering site:

seasonal promotions,
special offers (e.g. a free yule log),
or simply little goodies that you add to your customers' baskets, which will always go down well.
Lastly, to ensure that your efforts actually pay off, you must communicate as extensively as possible: remember to update your online ordering site with a special Christmas offers section, write up a newsletter dedicated exclusively to your end-of-year news (including, in addition to your promotions, ideas for Christmas recipes or something amusing), and make the most of your database to send out e-mails or text messages to your listed customers.