Free ingredients added to a basic recipe: you're in control
To meet the expectations of their customers, many restaurant owners allow their dishes to be personalized with the addition of additional ingredients. In order to make their experience even more pleasant, it is possible to offer these additional products free of charge. However, it is better to set limits to maintain an acceptable margin and profitability!
To do this, simply enter the amount of free ingredients allowed from your LivePepper back office. The manipulation is very simple, as in the following example:

Here, the restaurant owner chooses to set at 2 the number of ingredients beyond which the toppings are chargeable. The setting is made directly in the menu of your interface.
An optimal experience for your restaurant customers
While this limitation affects the total price of an online order, it does not affect the customer experience. In fact, your customers are informed upon selection of the number of free ingredients allowed, as below: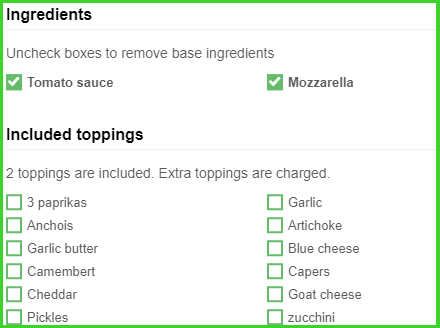 On the one hand, the words "2 ingredients of your choice. Additional ingredients are charged "appears at the top of the list of proposed ingredients. On the other hand, the chargeable toppings and their amount appear in the basket when confirming the order: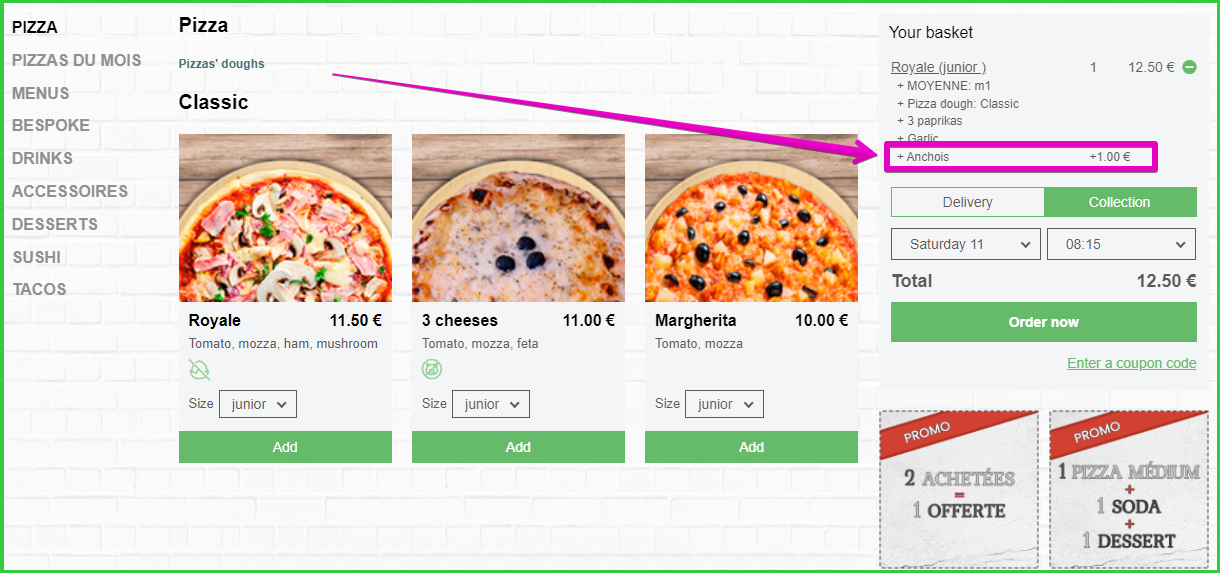 Your customers thus benefit from transparent information at each stage of personalization. They know what to expect and therefore don't have any unpleasant surprises when ordering online.
More vegetables on a Margherita pizza, one or two additional cheeses on the 3 cheeses for cheese addicts, garlic, capers or anchovies for lovers of spicy flavors, snail butter for gourmets… These options which make bespoke composition possible, are always appreciated by consumers.
They allow them to adapt a dish to their tastes, desires or possible food allergies. Such customizations are particularly relevant for certain types of products, such as pizza, pasta, sandwiches, etc. In all cases, you choose the amount of toppings allowed, the optional ingredients and the price of these additional products. In short, you have the control… and your customers have the choice!
Would you like to control better the price of your products and adjust your margins as well as possible? Do you prefer to contain culinary fantasies that could alter the taste of your recipes? You have chosen to limit the free toppings on your online ordering site? The LivePepper team adapts to your expectations with the customization of the number of free extras on your back office. Do not hesitate to contact us to find out more about this feature so popular (contact@livepepper.com)!