Food trends that restaurants can't afford to ignore
Focusing attention on products that are symbolic of the healthy food trend will allow you to appeal to an ever wider audience. If your restaurant caters to the needs of customers who are careful about what they eat, you must promote this aspect on your menu and in your establishment:
vegetarian dishes (now unavoidable);
organic;
gluten-free and/or lactose-free;
without pork; halal;
local products;
etc.
How to highlight these dishes that respond to new food trends on your online ordering site? The best option is to use pictograms, or "TAGS", which present the specificity of the dish. These small icons allow you to indicate whether it is gluten-free, vegetarian, etc., and thus to identify them visually very quickly.
Product tags on a standard site in line with your coulours
The standard tags available are: vegan, vegetarian, spicy, gluten-free, organic, pork-free, halal, nut-free, lactose-free.
Please note: on the standard version, the icons used for each tag cannot be modified, only the color can be modified.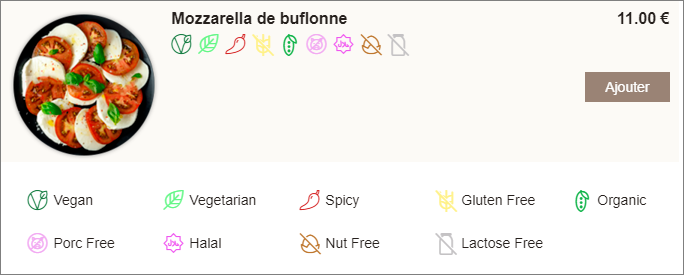 Product tags on a bespoke site
On a bespoke site, the pictograms used can be very varied, without being limited to the list of standard pictograms. In addition, the icon used can be changed. You for example use it to highlight your promotional offers, your latest creations or even your very spicy dishes.

How to integrate these icons in your online menu
Have your graphic designer do it for you
If you would rather not pay for this option, you can have your graphic designer integrate the appropriate icon or tag into the picture of the dish concerned. However, you will have to redo this each time you change a dish on your menu.
Automatic LivePepper feature
The "Tags" feature allows you to select, from the LivePepper back office, the products affected by this or that tag, and they will then be displayed automatically online. Tags are organized or removed as quickly as they have been added. LivePepper offers this service to its customers at an additional cost.
Contact us to get an estimate.
> Contact: Anastasia Smolen, asmolen@livepepper.com