As well as good eyesight and deft fingers, you will inevitably have to zoom in and out to find what you are looking for before confirming your order.
With a responsive site, the user experience is optimized.
Why is this such a big deal?
More and more people now use mobile devices to surf the Internet, and this trend is on the increase. In fact, smartphones and tablets are set to overshadow desktop computers, thanks in particular to increasingly affordable mobile phone plans.
Ref.: WeAreSocial
People are ever more inclined to use their smartphones to browse the Internet and make online purchases. This is especially the case with young people who, it just so happens, are regular fast food customers.
In France, mobile Internet users spend an average 58 minutes surfing the Web every day and I expect more time to be spent in the UK. Offering a responsive website that is compliant with these uses and with easy online ordering is therefore essential.
How can I offer an online ordering system that is optimized for mobile devices?
Rather than managing a separate mobile application or a separate mobile site, the best option is to make your existing Internet site responsive.
This avoids having to put information on different sites each time you change your menu or your products.
Basically, your site needs to be set up so that its content will be optimally displayed, no matter what the screen size from which it is viewed. Standard websites don't do this. For the person placing the order, it makes a big difference. Take the example of the Pappa Ciccia website below.
What you see is the website's "classic" version displayed when viewed using a desktop PC or laptop.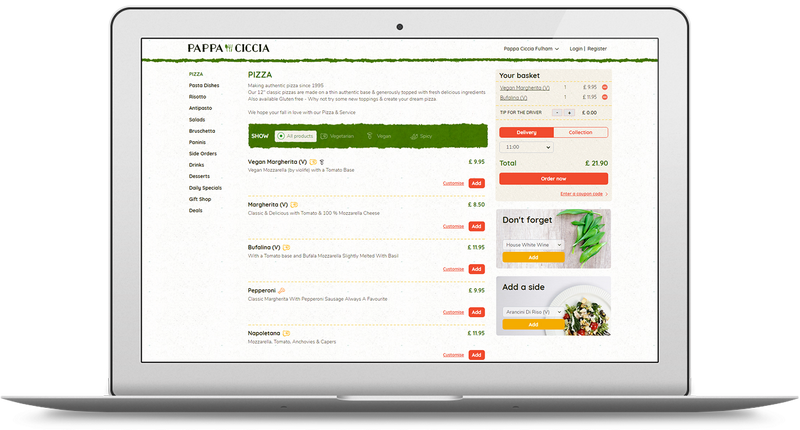 If you access the Pappa Ciccia site using a smartphone, its layout changes:
no shopping basket on the right
no more standard menus
simplified interface
adjusted font size…
Consequently, the customer does not need to look for items that are off-screen, or zoom in to click on the buttons for adding items to their basket. The buttons – "Add" and "Customise" – are clearly visible and easily clickable.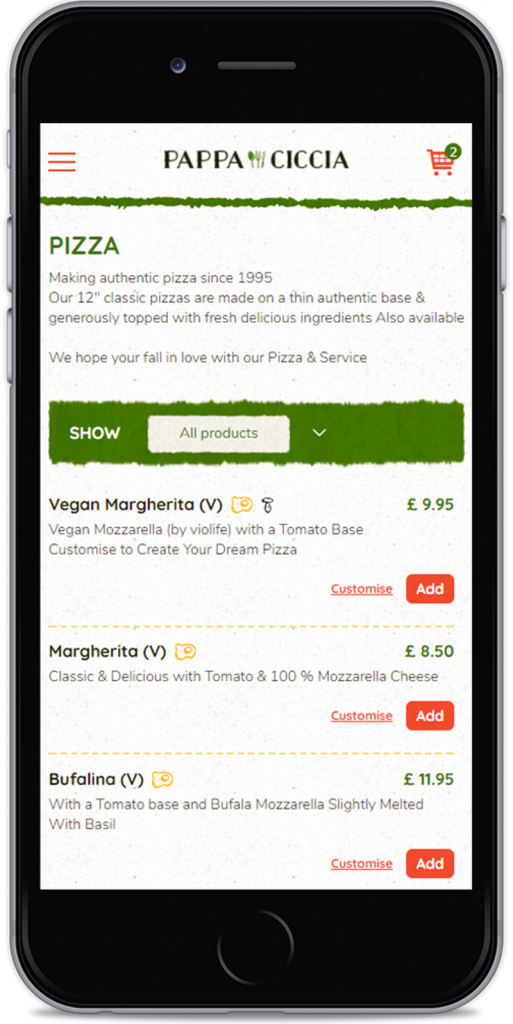 The menu is accessed via the burger icon, which replaced the "Back to menu" link.
The navigation menu is clearly visible and easy to use on a small screen.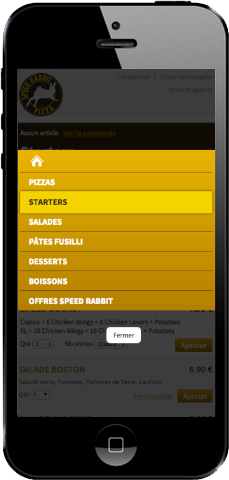 The "View order" link allows users to check their order once they have finished.
This responsive site gives users a clear overall view, and makes it easy to cancel a product using the "X" button.
If the standard site had been used, users would have to zoom in, pan across to see the basket, zoom in again to remove a product, and so on. Hardly a positive experience.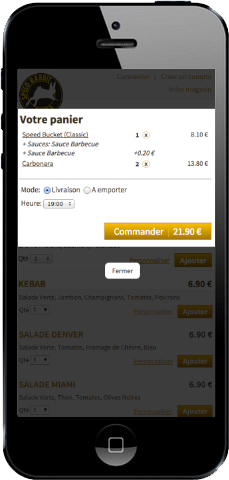 By providing your customers with a responsive site, you thus offer them an improved service. You will also limit the number of phone calls received from customers who would otherwise have placed their order by phone. Even if some customers may be willing to persevere on a standard website that does not offer an optimal viewing and interaction experience, providing them with a responsive site that meets their needs is sure to increase the average basket.
All LivePepper sites are responsive:
38% of customers on LivePepper sites use a smartphone to place their online order.
14% use a tablet.
Based on an analysis of the LivePepper platform in the UK, 52% of online orders are placed using mobile devices. And it's only the beginning…!