What is Click & Collect?
Click & Collect is a facility that allows customers to reserve or order products online, then collect them direct from the restaurant (similar to a Web-to-Store strategy). While many high street stores offer this service, it is in no way reserved to major retailers. In fact, Click & Collect offers a number of advantages to restaurateurs and other foodservice players. Fast food establishments were the first to climb aboard. Today, this option is even more important in order to meet the needs of increasingly connected consumers. Click & Collect and/or Takeaway options can be integrated in your website.
Pizza Hut did just that: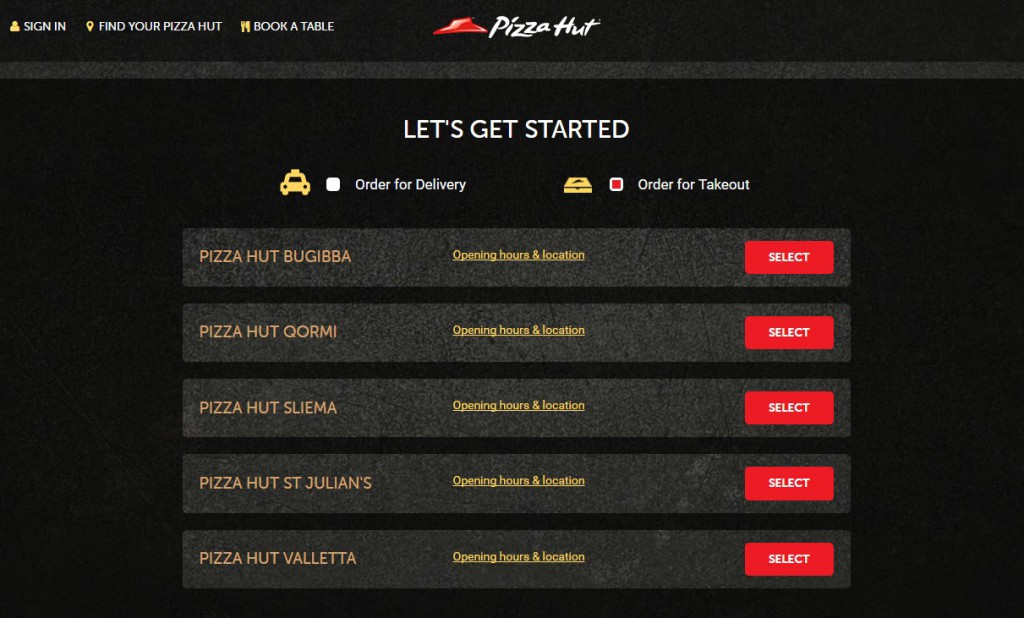 Generally speaking, Click & Collect is part of a broader multi-channel strategy, as illustrated by this example of a customer journey with McDonalds: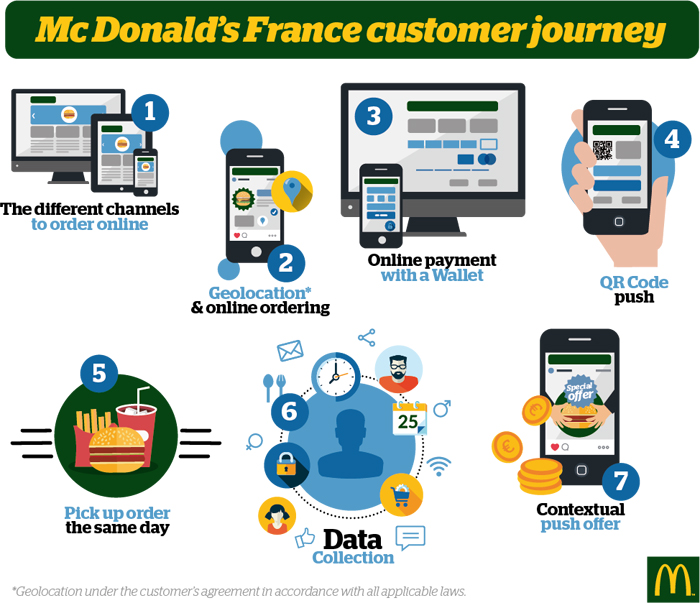 The benefits of Click & Collect for your restaurant
Click & Collect offers a number of benefits in terms of your restaurant's renown, revenue and daily organization.
The benefits of Click & Collect for your customers:
It allows people working in the vicinity of your restaurant to pick up their meals and consume them in their own time;
Your reduce your customers' waiting time, especially during peak periods (usually lunchtime);
Your customers can book their favourite dishes in advance and thus be sure to get them;
You enhance your customers' purchasing experience and avoid them having to pay delivery costs.
The benefits of Click & Collect for your establishment
Click & Collect combined with an online payment facility saves time for your employees since customers will already have completed the payment transaction when they pick up their orders;
You gain in terms of productivity and stock management by being able to anticipate some of your orders;
You will attract new online consumers who might not otherwise have stopped by;
You will differentiate your establishment from that of your competitors;
You will secure your customers' loyalty by making life easier for them and creating a new consumption channel.
And that's not all: this service will encourage your customers to directly use your online ordering site, which increases your direct sales while populating your customer database. Bear in mind that, in lots of sectors, including foodservices, a Click & Collect facility tends to increase customers' average purchase, since they are free to browse your site and are more likely to be tempted by the various products and offers available. You can also incorporate an upselling strategy to tempt customers to purchase additional products, just as you would if they were there in front of you.
Easily offering a Click & Collect service with your LivePepper online ordering site
With the LivePepper online ordering solution, you can control your website, improve the customer experience and increase your direct sales without having to resort to intermediary platforms. LivePepper can also set up a Click & Collect service for your customers so that you too can benefit from all the advantages we have mentioned. To learn more, see LivePepper's features or contact us right away.