Google Maps, a practical tool for home delivery
Configurable from the LivePepper back office, the Google Maps feature is aimed at any brand offering home delivery:
traditional restaurants;
fast food;
dark kitchens;
etc.
The Google Maps integration for your online ordering site serves two purposes. On the one hand, Google Maps is used to verify that the customer's address is well served by your deliverers. On the other hand, Google's mapping tool allows you to determine the delivery area(s) covered by your establishment. The improved Google Maps feature focuses precisely on this second point.
Travel time, distance: create your custom delivery areas
Now you can define an area by specifying a maximum distance or duration rather than by moving points on the map. On your back office, you have the choice between:
a "By time" setting i.e. the time required to reach the delivery address from the restaurant;

a "By distance" setting, based on the geographical distance between the two places.

You then choose the type of vehicle used for the delivery:
All you have to do is enter the travel time or distance of your choice.
Once this information is filled in, your improved Google Maps feature is fully operational in its new version.
A more advantageous delivery configuration for restaurants
Aside from its quick and easy setup, the benefit of the enhanced Google Maps feature is the accuracy it provides. While a point-by-point drawing produces fairly arbitrary zoning, here you are basing it on finer criteria.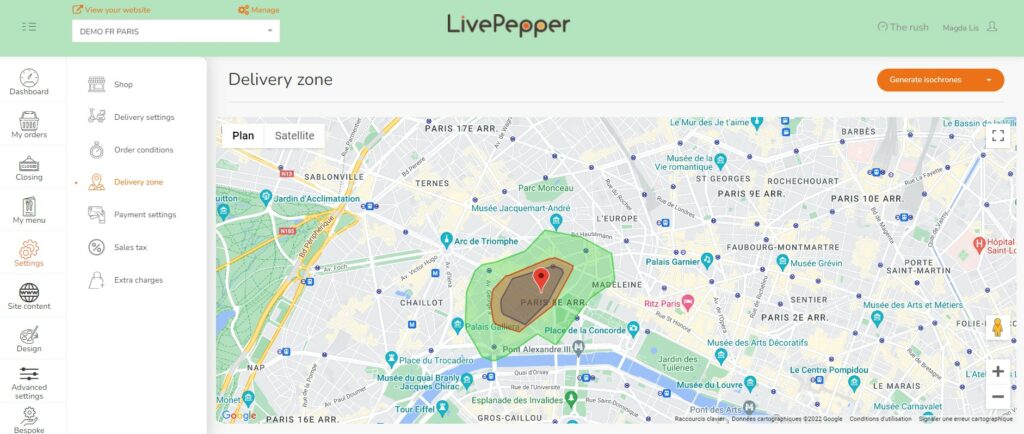 Depending on the configuration chosen, this feature has two different advantages:
or optimized management of journey times;
either perfect control of the distances traveled
In the first case, you opt for adjusted deadlines and an efficient rotation of deliveries, synonymous with fluid organization. It is all the more strategic in large cities, subject to traffic difficulties. Traffic jams make the criterion of time more relevant than that of distance for customers.
In the second case, you rather choose to focus on the kilometers traveled by the delivery people and their vehicle. Simple to manage, this is the criterion traditionally applied for the delivery of meals at home. Less binding than the chronometric criterion, it is also less random. It also allows better control of refueling and fuel expenditure.
Do you have any questions about the Google Maps feature in general? Your LivePepper contacts are at your disposal to provide you with the answers contact@livepepper.com.