HubRise is one solution to this problem. It centralizes your data in the Cloud and allows the applications you use to access this data in real time. The sole condition is having to use the integrated applications via HubRise. Note that LivePepper is fully integrated, which means you can synchronize your menu, your orders and your customers.
Connecting to HubRise
If your online ordering site runs on LivePepper, you can connect it to a HubRise account for free. This means you have access to integrations with POS systems (such as Nestor, iKentoo or Kezia de JDC), marketing solutions (such as MailChimp), delivery solutions (such as OrderLord), loyalty solutions (such as Como), and kitchen display system solutions (such as Tick'N'Cook), among others. The list gets longer every month: if you use Uber Eats or Deliveroo in parallel to your own LivePepper online ordering site, HubRise will soon allow you to receive orders from these platforms on your POS solution. You can consult the list of integrated solutions via the Apps page on the HubRise website.
How do I enable HubRise? From your LivePepper back office, go to the "Add-ons" section then, in the "HubRise" subsection, tick the box and click "Connected to HubRise".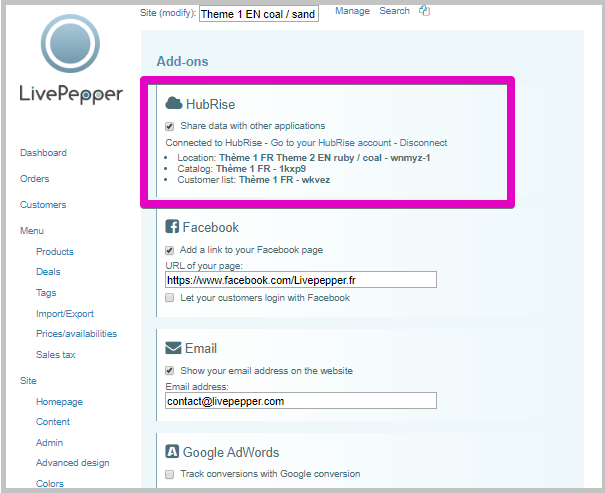 Registration is fast and free. HubRise only bills this service (€25 per month exc. VAT) once it is used in real conditions (i.e. at least 50 orders per month).
HubRise – how it works
How does HubRise work? Once you have opened your HubRise account and are logged in to your LivePepper site, orders and customer data are sent to HubRise in real time. Note that HubRise is compliant with the European GDPR personal data protection regulation, so on no account does it trade your personal data. Applications compatible with HubRise work based on the same underlying principle: once connected to your account, data is exchanged immediately. Your LivePepper orders are thus displayed on your POS solution or your kitchen display system, and your emailing list is automatically populated with the contact details of your LivePepper customers.
If your LivePepper site is already directly integrated with your POS solution, in theory you shouldn't have to proceed via HubRise. In fact, we will be maintaining the direct integrations already developed. However, faced with the ever-increasing number and variety of solutions used by restaurants, we have come to realize that we simply cannot integrate them all. HubRise thus represents the ideal solution for having a large choice of integrations, while allowing our developers to focus on improving our online ordering solution.
If you already use HubRise, by all means share you experience with us via the comments.