A bespoke e-mail after ordering online: good for maintaining customer relations!
When customers place an order on your restaurant's online ordering site, they promptly receive an automatic e-mail that confirms and summarizes the details of their order. The LivePepper teams now bring you the possibility of sending a bespoke e-mail that reflects your brand image.
This message can include:
your logo

the colours and items in your graphic charter

the editorial content of your choice

links to your website(s) and/or social media accounts

additional elements, such as a satisfaction survey
Here are two examples in images to understand the added value of this functionality. Below, you can see a standard e-mail message received by a customer who has just placed an online order: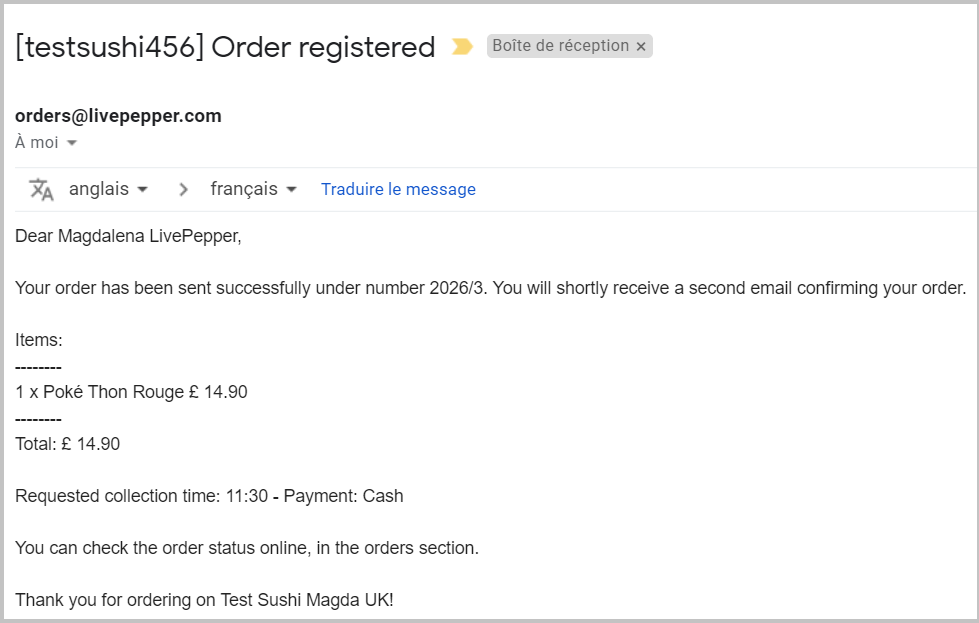 Now here's an example of a bespoke e-mail, with content personalized to match the restaurant's preferences and graphic identity:

Online ordering: what's included in the bespoke e-mail sent to confirm an order
More appealing and comprehensive – the bespoke confirmation e-mail has it all! Thanks to the technical expertise of the LivePepper teams, you can add different elements to stand out and perfect your communication:
a design that reflects your graphic environment

and that matches the colours of your restaurant, with your logo and an attractive frame, for example;

a message with content that you define

according to the "tone" of your restaurant;

links and icons that point to the various social media platforms

on which you are present (Facebook, Instagram, etc.).
Note: if you opt for the bespoke e-mail feature, you must choose your message content carefully during the design phase. Once encoded by our developer, you will no longer be able to modify this content.
This "bespoke e-mail" option designed for restaurants that offer online ordering can be completed with another feature developed by LivePepper: the automated action. With this feature, you send your customers an additional message to ask for their opinion, via a satisfaction survey, within the 48 hours following their order. This is a good way to learn more about their experience with your brand!
While this experience obviously boils down to the quality of your dishes, customer satisfaction starts with the online ordering process: by sending a custom confirmation e-mail, you optimize your exchanges with quality content that reflects your brand image, and thus sets you apart. Contact our team (contact@livepepper.com) to find out more about this option and add it to your site!