Why categorize toppings?
If customers who order online are fond of customizing dishes, they still need to be part of your offer. Like the products that make up your menu, the toppings you offer can therefore be classified. This paid feature is particularly suitable for certain types of catering:
Pizzas

Pasta

Tacos

Bebabs

Burgers

Bowls

Chirashis

Salads

Pancakes

Etc.
By default, the various toppings all appear together and are not visually distinguished. With the categorization of supplements, on the other hand, they are classified by "families" of products: cheeses, meats, and so on. This is the case in the example below: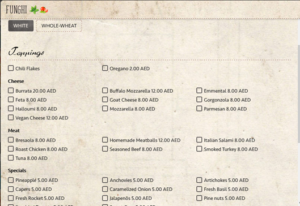 For customers who order online, the choice is easier and the purchase process faster. This better organized display directly contributes to the quality of their experience. It can also encourage the selection of paid options and thus increase the average cart on your site.
Categories of toppings defined in advance and clear to the customer
With the classification of extra products, you keep control over your menu configuration and possible customizations. Thus, it is you who define in advance the categories of supplements that are most consistent with your specialties: vegetables, cheeses, cold meats, etc. They are then coded by the LivePepper technical team, to materialize on your site in the form of sub-headings.
Extended to the basic site, this functionality also makes it possible to limit the number of supplements: three, four, five, etc. However, the limit set is global and applies to all categories of toppings.
If, for example, you set a maximum of three supplements, the customer who adds three cheeses will no longer be able to select anything in the other categories. In other words, the limit on surcharges cannot be configured category by category.
Improving the experience of your customers, encouraging the addition of paid options and managing your margins as accurately as possible: these are some of the good reasons to choose the categorization of toppings!
Are you interested in this feature? Is it perfectly suitable for your restaurant business? Contact your LivePepper team to find out more or integrate it into your site without further delay (contact@livepepper.com).