Online ordering management for restaurants: a deadline for pre-orders
LivePepper continues to innovate alongside restaurateurs to meet their needs. On your restaurant's online ordering site, you can now include an additional feature for setting a deadline by which your customers must pre-order for the following day.
In order for it to be available the following day, customers must confirm their pre-order before a certain time the day before, which you define in line with your constraints (procurement times, preparation times, etc.). You define your settings as appropriate:
the pre-order deadline

for delivery or pick-up the following day;

the number of days in advance

during which pre-orders are possible (within the limit of 30 days);
Restaurateurs who wish to allow their customers to pre-order can thus define their ordering time limits in just a few clicks via their back office, as shown in the example below:

Here, customers can pre-order up to 7 days in advance. The deadline for pre-ordering the day before delivery/pick-up is 20:00. Basically, this means that, provided the customer places their order before the deadline, they can choose to collect their order the very next day; this choice is available in the drop-down menu. If the customer places their order after the deadline, the "tomorrow" option will no longer be available. The earliest available time will thus be the day after tomorrow. Here, the restaurateur has chosen to offer online ordering up to 7 days in advance; naturally, you are free to define this setting as suits you best. Only the days that match your criteria are shown in the list.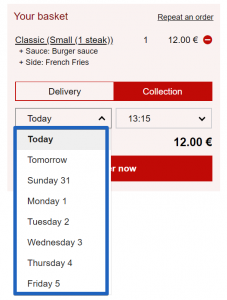 Note: considering that it must be encoded by our developers, this additional feature for your restaurant's online ordering is a paid optional extra.
Online ordering for restaurants and caterers: a feature to facilitate your organization
While being able to pre-order is a real bonus for consumers, it is often a bit of a headache for restaurant managers who have to organize their business according to set time limits. By defining the time beyond which pre-orders placed the day before can no longer be honoured the following day, you can effectively work around these difficulties, which could otherwise be a cause for disappointment for your customers if you are unable to meet certain deadlines or if certain products are unavailable.
If, for example, you set the pre-order deadline to 8 pm, by 8:01 pm you know exactly what you have to prepare for the next day. This means you know how many dishes you have to plan for, and allows you to manage your procurement and allocate each kitchen employee's work accordingly, etc.
This feature is particularly useful for catering providers or restaurants that offer home-made dishes, for whom being able to anticipate is often vital.
Ever attentive to restaurateurs and their needs, our sales team is at hand to present the benefits of this new feature and suggest the best possible set-up for you. Contact us (contact@livepepper.com) without delay to find out more!