Cart abandonment email: Why some customers give up on their orders?
Did you know that nearly 7 out of 10 online orders [1] are never completed while ordering? Why some customers give up and leave their cart abandoned? "Purchase barriers" are used to describe the factors, both technical and psychological, that lead them to give up. These can include:
excessively high fees (management fees, delivery fees, etc.);
the obligation to create an account to place an order;
unsatisfactory delivery times or slots;
doubts about the security of online payment;
too few payment options offered;
a lack of time and/or a tedious ordering process;
technical bugs on the online ordering site or during payment;
the need to think or compare one last time before deciding;
etc.
However, a lost customer is not necessarily a lost sale. A cart abandonment email can sometimes be enough to bring back indecisive visitors to your site.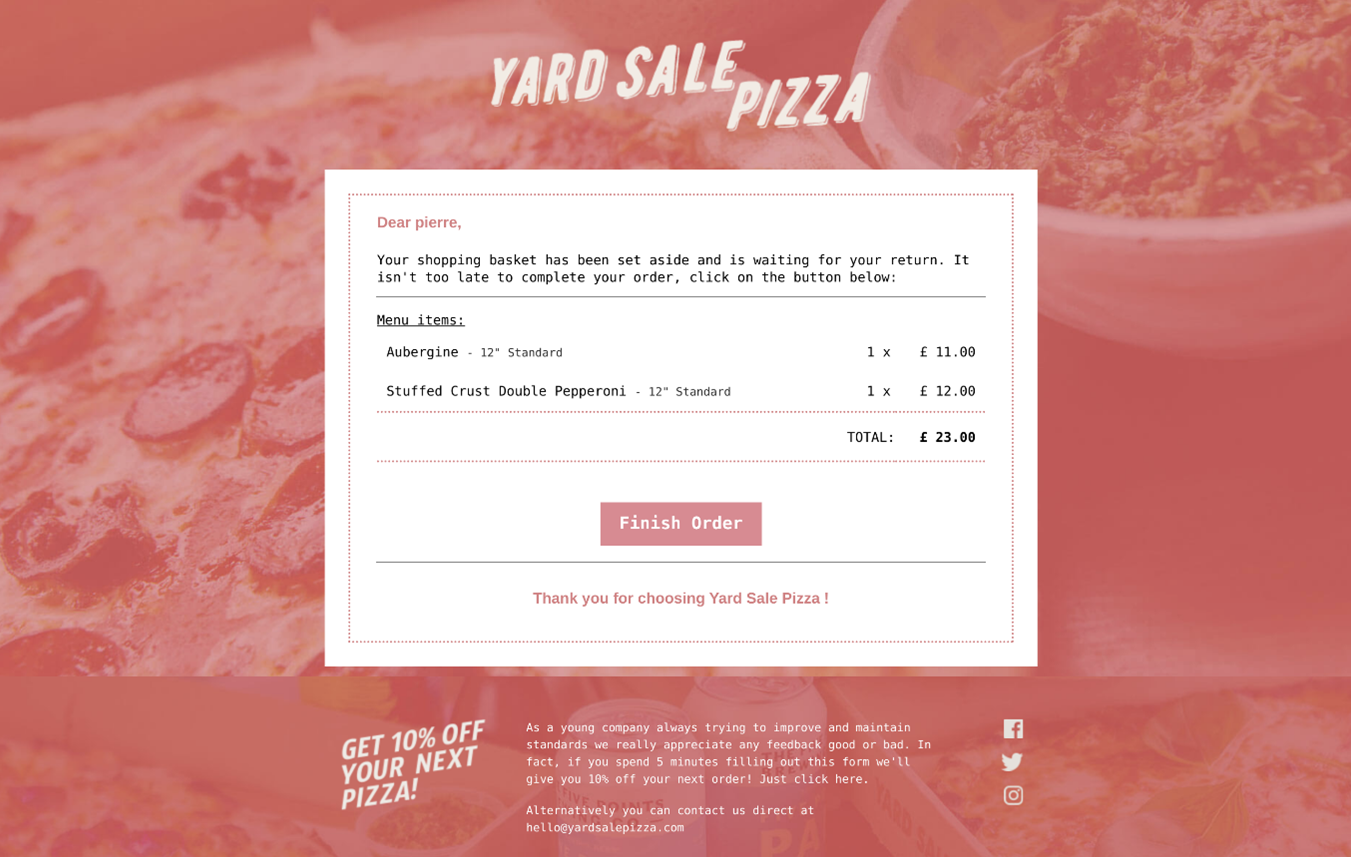 This reminder message is automatically sent in case of an abandoned cart. Its goal is to encourage, but also reassure your customers. Its content must therefore be carefully crafted and, preferably, personalized.
Use the cart abandonment email to convert hesitant customers
To address abandoned orders, the cart abandonment email is by far the most effective marketing tool. The principle is simple: remind the customer of the contents of their cart and encourage them to place an order. When this reminder message is sent quickly, its opening rate is estimated at 40% [2]. In addition, 20% of recipients click on the content of the email once it is opened.
Cart abandonment email: The strengths
LivePepper offers this optional feature for your restaurant's online ordering site. Sending a cart abandonment email has several advantages:
firstly, it can be customized to match your brand and colors;
then, it is automatically sent to customers with an account on your site;
finally, you configure the sending modalities and time delay of the reminder message.
All of this is activated from your LivePepper back office with technical support from our teams, depending on your needs.
What this email should contain?
The cart abandonment email should address any doubts the customer may have. In addition to a summary of the cart itself, it can include, for example:
visuals, photos, and illustrations that give an idea of the products and inspire desire; · clear and readable contact information that shows the buyer they can easily contact you if needed;
a reminder of delivery times and/or cancellation conditions, for the sake of transparency;
a promo code or other advantage;
a personalized suggestion of similar or complementary items;
etc.
This type of information will be hardcoded, so it will not be possible to modify it at any time.
Finally, the cart abandonment email must stand out among the numerous messages received every day by internet users. Do not hesitate to be original and creative to quickly grab the attention of your recipients!
Do you want to improve the conversion rate on your online ordering site? Do you want to boost your sales by reducing cart abandonment? The cart abandonment email helps you convert abandoned carts into completed orders and visitors into buyers… Contact us to set up this feature at contact@livepepper.com !
[1] According to a study conducted by the Baymard Institute, the average cart abandonment rate is 69.99%. (chiffres 2023)
[2] The article published in Business Insider