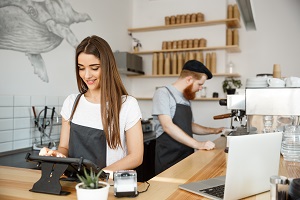 In the future, the PepperShop order management tool will be permanently replaced by Pepperline. It is our new solution from LivePepper which allowes you to receive and manage orders that arrive from your online ordering site. Have you used PepperShop or OrderLine so far? That is to say, we can give you information on both.

The LivePepper solution for efficient online order management…
To offer online ordering without having POS system, a management tool is essential. This enables the restaurant owners, to receive and manage orders arriving on their sites. Historically, most LivePepper customers have been using PepperShop. In the same vein, some of them were using a 100% web-based solution: Orderline accessible through a HubRise account. Your LivePepper now offers its own tool: Pepperline. Please find below several advantages for restaurants:
Pepperline is managed from your LivePepper back office, which you know well and are used to using;
Its use is simple, and does not require downloading or having special equipment;
Each customer receives a confirmation when you accept his/her order on Pepperline (this step is therefore very important);
The tool will be regularly updated to be improved and enriched (where the age of PepperShop no longer allows for technical developments or interventions).
Finally, be aware that setting up Pepperline is free: no additional costs are to be expected!
Restaurant owners: when and how is the update to Pepperline going?
To support you in this scheduled update from PepperShop to Pepperline, your LivePepper team will provide you with tutorials (explanatory videos) which explain how the tool works. Moreover, this is quick and easy to learn. If necessary, your LivePepper members can also organize specific trainings if you or your team have difficulty mastering this new online order management solution. To clarify:
If you are still using PepperShop but you are not satisfied, you will be able to switch to Pepperline tool;

 If you use OrderLine, you can keep this tool. However, iff it does not give you full satisfaction, do not hesitate to switch to Pepperline as soon as you wish, by contacting us.
All new LivePepper customers will have the Pepperline solution for their next online ordering site, whether it is a standard site or a bespoke site.
Would you like to learn more about the benefits of Pepperline, or do you need any help in setting it up? Contact us now to optimize the management of your online orders with this practical and scalable solution (support@livepepper.com).