Online ordering for restaurants: when working with fine products requires time
Online ordering for your restaurant is an excellent way to increase your sales. However, it's also a major challenge in terms of organization and preparation! To allow you to better anticipate your needs, LivePepper has devised a new feature to incorporate into your site: preparation tags that indicate the preparation times valid for certain dishes:
24 hours;

48 hours;

72 hours;

etc.
This new tag is especially useful for restaurants that offer home-made dishes, as well as caterers and foodservice providers who need to know what they have to prepare in advance so that they can adapt their procurement and organization accordingly. It also represents a guarantee of quality and transparency for customers familiar with online ordering for restaurants.
How is the preparation tag displayed on your restaurant's online ordering site?
Nothing changes for customers ordering on your site: they are simply informed of the amount of time they must order in advance when they select the dish concerned. That way, if the user of your restaurant's online ordering site chooses a product that requires a certain amount of preparation time, the tag indicating that this product must be ordered in advance is displayed in the basket, as shown in the example below: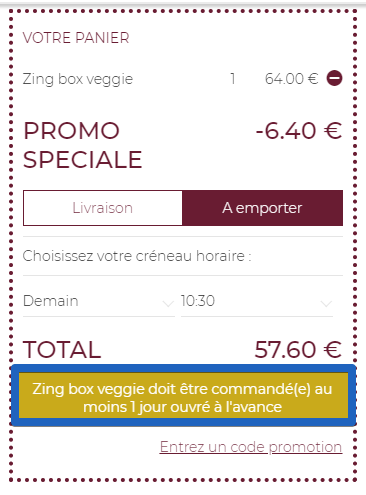 The customer must then change their order's pick-up or delivery date for it to be finalized and confirmed.
How to set up this feature on your online ordering site
To set up this new feature intended for online ordering for restaurants or foodservice providers, it must first be encoded by LivePepper's developers. You can then choose the products for which you want to specify the necessary advance order time.
You can configure this information via the Tags / (Règles commande) Order rules tab, as shown in the example below:

For restaurants with a bespoke site, the LivePepper teams can also give these tags an easily recognizable design if appropriate. This involves creating a thumbnail that will appear at the top of the image to indicate that the corresponding product must be ordered in advance: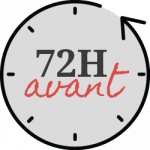 That way, the site's users can easily see exactly which products are concerned and how long they have to order in advance.
A strategic partner for restaurateurs, LivePepper constantly innovates to respond to their problems and meet their needs. Do you want to add "preparation" tags to your restaurant's online ordering site? Our team is at hand to answer your every question (contact@livepepper.com)!