Paying an order online with Stripe: the procedure for your customers
For customers of your online ordering site, the ordering process with Stripe is simple. Therefore, after validating their choice of products, the user accesses the payment page where they enter their bank details to pay online.

This payment solution has various advantages for your end customers:
Payment with Stripe is secured by sending a security code by SMS (3D Secure);
However, it is not necessary to have an account on Stripe (unlike most other online payment solutions);
Moreover, most payment cards are accepted (Mastercard, Amex, Maestro, etc.).
Your customers can also save their bank details to pay faster and easier on their next order. They then access online payment in 1 click for each of their purchases on your restaurant's website.
How to set up and manage Stripe on your online ordering site?
Furthermore, any contract is required:
You create an account on Stripe;
You transmit to LivePepper the codes which are provided to you (called "private keys" and "public keys");
Subsequently, LivePepper adds them to the back office to associate this payment method with your online ordering site;
As a result, payment via Stripe is available to your customers within 24 hours. You may or may not choose to apply a service charge on these transactions.
It is also possible to make online payment compulsory in certain cases. That is to say, for the collection order but not for delivery, for example.
Finally, you have the option of making Stripe a "default" payment method. In other words, this solution will appear first when the customer chooses how to pay for his order: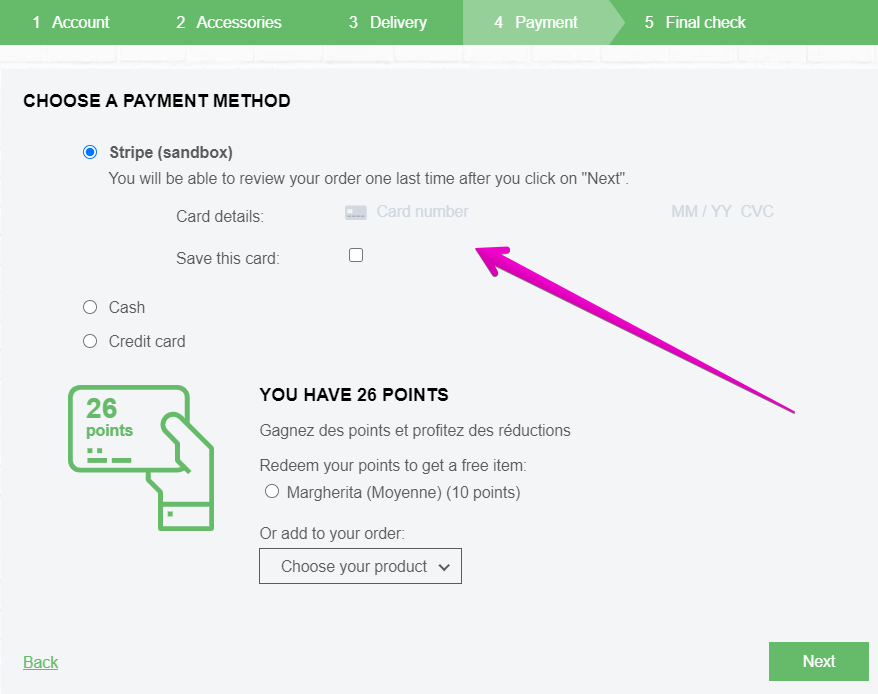 Please note: Stripe takes a commission for each transaction. Your contact at LivePepper can provide you with any information on the rates applied.
Are you interested in this solution? If so, please contact us now to learn all about the benefits of Stripe. Discover our offer! For information on all additional payment methods for your online customers send us an email at sales@livepepper.com