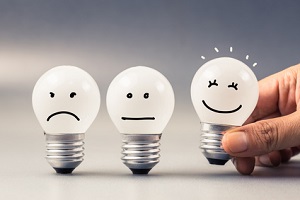 Customer experience is central to any commercial activity. To gauge it effectively and better meet consumer expectations as a result, LivePepper invites you to poll your customers after placing their online orders on your site.
The basic principle is simple: 24 hours after placing an order, you send your customers a personalized email or text asking them for feedback on your service or the quality of your dishes. Read on.
Knowing what your customers expect to better serve them
Why not ask your customers directly about their experience with your brand? With LivePepper, you can send them a feedback form by email or text after they have placed an online order on your restaurant's website. Obviously, you are free to choose the content of your message, the questions on the form and when to send it (immediately after ordering, several hours later, etc.).
After creating a bespoke e-mail message via the personalized e-mail or SMS text feature to present your approach, you can then generate your survey using various online tools, most of which offer free basic plans or more comprehensive paid-for plans:
Google Forms which is entirely free;
Survey Monkey, free for 10 questions and 100 responses, with paid-for plans starting from €35 per month, including a results analysis;
Typeform, a solution that specializes in user experience, with a free version and more complete plans starting from €25 per month;
Drag'n Survey, a solution widely used in France, with a free version and plans at €24 or €49 per month;
Mail Chimp, known throughout the world, with plans ranging from 0 to €180 per month depending on the options selected;
Le Sphinx (French only), which includes several data collection, analysis and presentation solutions, paid for via a licence at €735;
etc.
These various tools, most of which are easy to use, will allow you to gather customers' opinions on your services, and thus accurately gauge their satisfaction.
Customer experience: which questions for constructive feedback?
Via the form you send to your online ordering site's customers, you can ask a broad palette of questions about the quality of your service:
How do you rate your online experience?
Were you satisfied with the presentation of our dishes and their composition?
Did the dishes you ordered meet your expectations?
What did you think of the quality of the items ordered?
Was your order delivered on time?
Was the delivery person pleasant?
etc.
The more precise your questions, the more insightful and constructive the feedback, thus allowing you to improve your offer.
Lastly, you should consider how your customers can respond. Different options are available:
A scale from 1 to 5 or 1 to 10;
A selection of responses, e.g. ranging from "not at all satisfied" to "very satisfied";
Coloured smileys to simply illustrate the respondent's reaction (not happy, fairly happy, happy, very happy);
etc.
Obviously, you can include one or more open-ended questions to allow customers to add their own comments. You can then draw on their opinions and possible comments to improve your service, adapt your menu or optimize your delivery service.
Bear in mind that your customers won't necessarily have a great deal of time to set aside for your questionnaire; so try to make it easy for them via simple (but targeted) closed-ended questions which they can complete in a matter of minutes. To incite them to respond, you can even offer a reward for duly completed forms via a promotion code, e.g. 10% off for the next order. 
There's also a less time-consuming alternative to the satisfaction survey for obtaining the opinions of your customers. In the e-mail or SMS which you send, you can replace the link to the form with any other link, for example pointing to:
That way, your customers can quickly rate their experience without proceeding via a questionnaire. Again, you can draw on their opinions and possible comments to improve your service.
The LivePepper teams help restaurateurs to assess and improve their customers' experience. To put our recommendations into practice and devise a personalized e-mail that's ready to send, see our "satisfaction survey" feature available as an optional extra in all our plans.