Until now, a customer could earn loyalty points with each online order without conditions. The "opt-in loyalty" feature offers restaurants that want it another option for their loyalty programme. It makes it possible to condition the accumulation of loyalty points on the acceptance of promotional offers by e-mail.
In order to fully understand the principle of "opt-in", let's take the concrete example of Saba, in Dublin, a restaurant which has activated it. When they fill in the information necessary to finalize their online order, the customers see the following form displayed: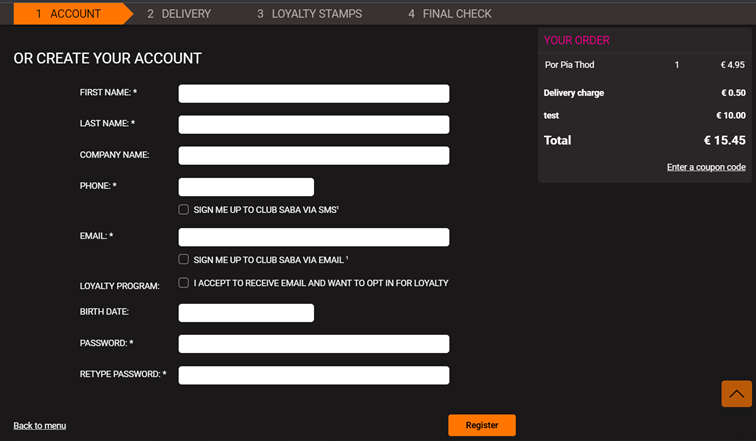 Here, accepting to receive offers by e-mail and subscribing to the loyalty programme are one and the same option. It appears in the form of a box (checkbox) that the customers can tick after having entered their e-mail address.
In the case of Saba, this checkbox is separate from the subscription to the newsletter ("Sign me up to Club Saba via email"). However, you have two options:
– opt for an identical configuration, with two separate boxes;
– merge newsletter sign-up and opt-in loyalty membership. The customer will then only have one checkbox to accept opt-in loyalty, email offers and newsletter.
The "opt-in loyalty" feature is already available for bespoke sites. However, it can be integrated into basic sites on request from the LivePepper teams.
A more qualitative loyalty programme for online ordering
After requesting it from LivePepper, you can enable or disable opt-in loyalty from your back office. As of its activation, the customers who refuse the sending of offers by e-mail can no longer accumulate new points. They can nevertheless use the points they already have if necessary. In addition, they retain the possibility of subscribing to opt-in loyalty at any time from their account settings.
The customers who order online and accept e-mails fully benefit from the loyalty programme. Whether they are the new customers or the existing members, they can then connect to it as they please. In the example below, still at Saba, the loyalty programme takes the form of a virtual loyalty card. The customers have the option of exchanging their points for products: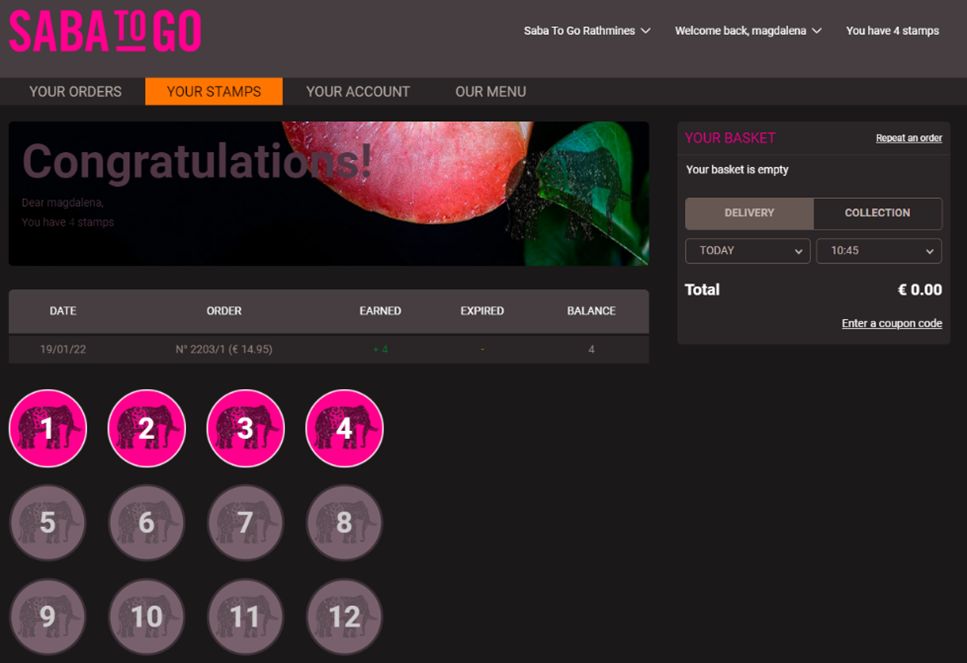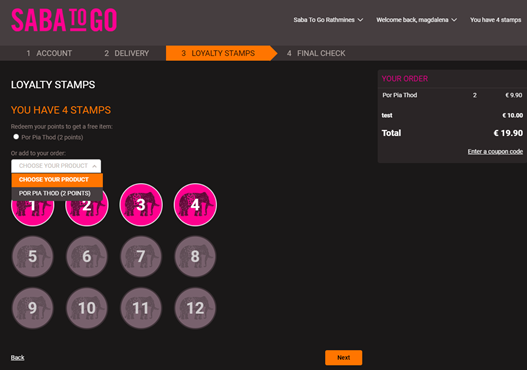 Finally, you can also describe with a brief text the terms and conditions of opt-in loyalty via your back office. They will be visible:
• at the end of the transaction for buyers who have not subscribed to opt-in loyalty;
• on the page of your site dedicated to the loyalty programme for others.
These details on the terms of your loyalty programme will inform registered members, but they can also convince those who are still hesitant to receive your offers!
Do you have any questions about this loyalty opt-in feature, its benefits and its implementation? Please contact our team (contact@livepepper.com)!