To begin, remember that a bespoke site is distinguished above all by its design. You decide in particular on its graphics, its structure and the organization of its content. This means that you have control over how it presents itself. Because it is largely customizable, the custom online ordering site therefore offers more graphic and technical options. These are all assets to meet the expectations of your customers, to retain them but also to encourage them to buy.
For your customers, an optimized navigation
The bespoke online ordering site allows you to control the way your dishes and products are presented. It is designed to offer fluid and regular navigation, which involves, among other things:
An improved mobile version, which gives you the possibility of accompanying or not accompanying the products with photos in the menu scrolled by the Internet user;
Filters to simplify the search for customers and save them time;
Alternatives to pop-ups, such as buttons, to choose the size of a pizza for example;
Personalized tags to help Internet users find their way around and take into account their diet or their requirements ("organic", "gluten-free", "vegetarian", etc.).
In other words, the bespoke online ordering site prioritizes the quality of the customer experience. It protects it from unwanted pop-up windows, extended menus or an overflow of visuals that harms display on mobile. Simpler and more efficient, navigation on a custom online ordering site is made more pleasant.
For you, controlled communication
The bespoke online ordering site contributes doubly to the development of your sales. First, it makes navigation more intuitive and faster, which limits the risk of cart abandonment. Then, it encourages the purchase through an optimal presentation and suggestions of complementary products.
The bespoke online ordering site offers you the possibility of:
Replacing categories with icons, images, or logos, as in the following example: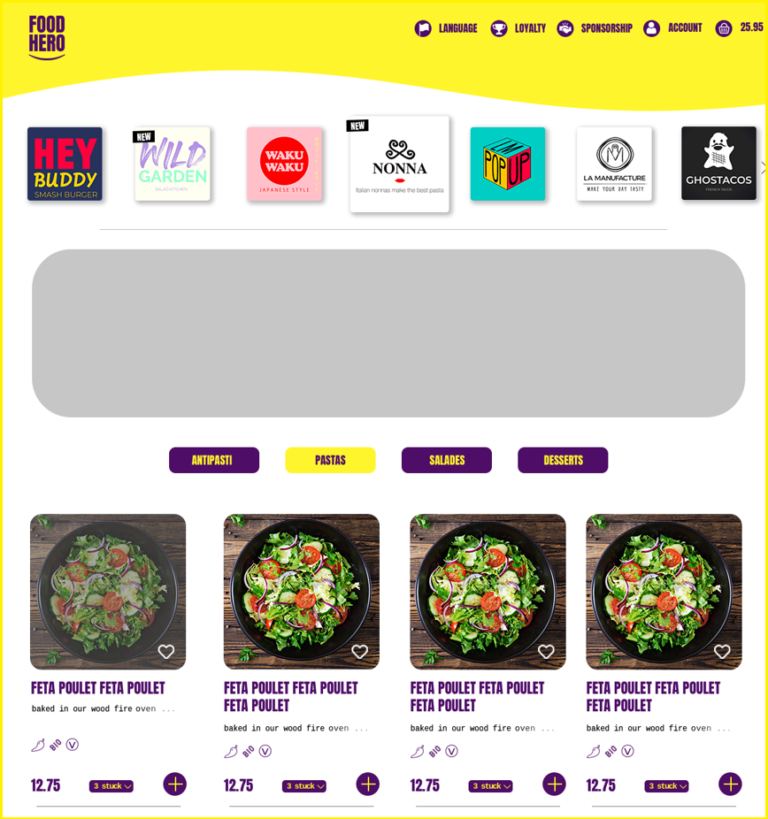 Illustration your restaurant's loyalty programme using an image (a cut pizza, on the site below) and decide on its mechanism (here, points accumulated with each payment and exchanged for reductions):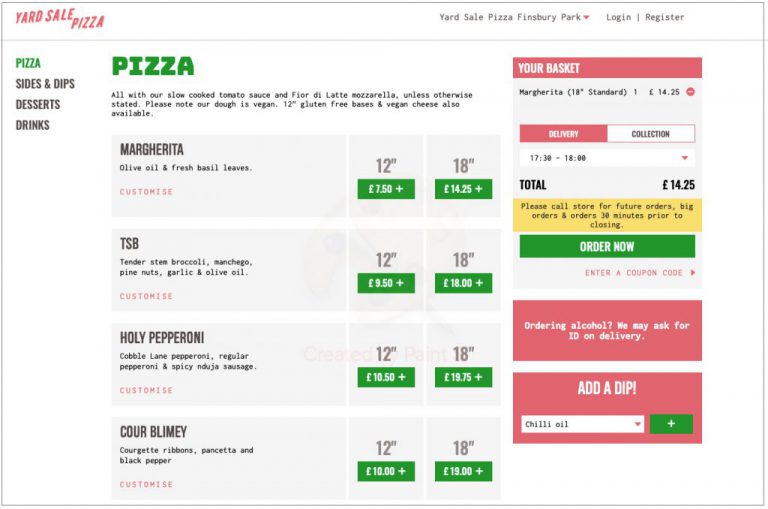 Offer relevant additional purchases with a product push under the basket, based on algorithms that analyze your customers' preferences and your current offers.
The bespoke site therefore makes it possible to set up more effective communication and better targeted offers.
The "bespoke" applied to your homepage
You also have the option of developing a homepage, which will then be integrated into your online ordering site. This purely informative site is used to present your restaurant: its cuisine, its opening hours, an access map, photos, etc. The site takes up the visual identity of your restaurant and adapts it according to your preferences. As part of a bespoke homepage, you also benefit from:
a bespoke design, which gives you the choice among different fonts;
an optimized site structure offering many possibilities: 3 or 4 microblogs, a clickable slideshow, a location widget in the slideshow, the logo in the middle of the page or in the banner at the top, or even a menu on the left as in the following example.
Your bespoke homepage site also includes various additional pages that can be personalized:
"contact form" ;
"about us" ;
"franchisee";
"loyalty programme" ;
Etc.
In the same way as the bespoke online ordering site, your homepage adapts to your graphic charter, your activity and your objectives. Finally, it allows you to control the image of your establishment with quality content that is easy to update.
Would you like to develop a bespoke online ordering site, with or without a homepage? The LivePepper team provides you with flexible and complete solutions, regularly enriched with new features. Contact us now to find out more and tell us about your needs (contact@livepepper.com)!