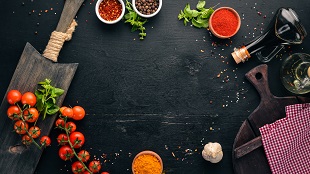 Among the features developed by LivePepper to make your restaurant's online ordering site even more attractive, the implementation of customizable banners brings real added value in terms of design. This feature is only available on a bespoke site.
Online ordering site: banners that can be modified according to your needs
On your bespoke online ordering site, it is possible to integrate a space especially created for your customizable banners at the top of each category of your menu. We give you the access in your back office to modify these banners: you will be able to manage them as you wish, you can also modify them or delete depending on your preference. You can design your banners by yourself or entrust their conception to LivePepper's graphic designers, via our digital marketing service. Whichever you choose one option, you will need to prepare two banner sizes: one for desktop viewing and one for mobile viewing, which require different sizes.
A space dedicated to "banners" on your online ordering site
Once this feature is activated on your online ordering site, you will see your banner appear at the top of the menu, as it is in the example below:
Another technical possibility also proposed by LivePepper: the insertion of a clickable banner (not to be confused with the clickable promotions that appear under the basket). The customer of your online ordering site just has to click on it to be redirected to the menu, as you can see below:
Restaurant owners can choose to have their entire menu on one page via the "Drop-down Menu" option (in other words the menu on one page). In this case, adding a single banner, identical for all categories, is sufficient:
Of course, it is also possible to organize the menu on different pages, with one page per category (the link of each page is then different). In this case, you have the possibility to add several banners, which change depending on the selected category:
Banners on one page or on several pages, simple or clickable, created by you or by our graphic designers: as always, LivePepper adapts to your constraints and your desires to offer you flexible solutions.
Would you like to integrate a customizable banner into your restaurant's online ordering site and be able to change it according to the seasons or your inspirations? Contact us now to learn all about this feature and give your site a more professional dimension than ever before (contact@livepepper.com)!