For delivery or collection, online ordering converts to deposit
Like Malta or Quebec, several local authorities now require restaurateurs to deposit glass bottles. The principle of bottle deposit, which is nothing very new, is as simple as it is virtuous. It consists of charging a supplement for returnable bottles in order to encourage their reuse or recycling.
The system also promotes a more sustainable and fairer circular economy. It is particularly attractive for its eco-responsible dimension, as the ban on plastic and disposable packaging is becoming widespread.
Whether it is managed by the restaurants themselves or outsourced to a dedicated service provider, however, the deposit has a cost. Applying a surcharge for returnable bottles allows establishments to pass it on, partially or in full.
How to configure the additional cost for returnable bottles on your backoffice?
LivePepper has developed a feature that allows you to apply the additional cost for returnable bottles on your site. You choose the products concerned on your backoffice:
wine;
water;
juice;
soup;
etc.
Available with a basic or bespoke site, it works on the same principle as the extra charge option. Once the extra cost for returnable bottles has been configured from your backoffice, it is displayed in the clients' basket: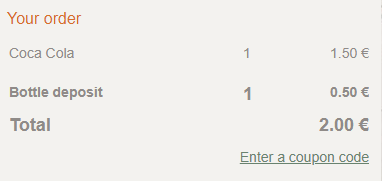 In the same way, the supplement for returnable bottles appears on his/her receipt. In the following example, the amount of the deposit, or bottle deposit, is €0.50: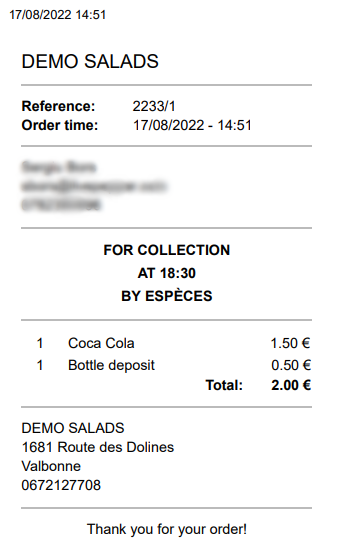 Finally, the application of the deposit on the bottles is directly visible from the LivePepper backoffice of your site: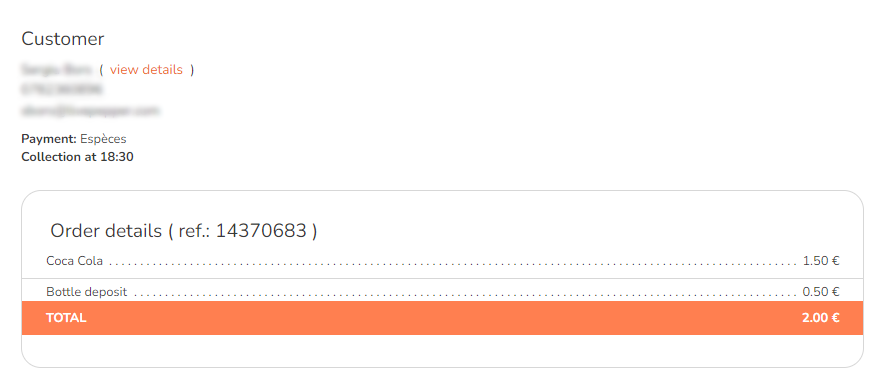 Please note that, by default, the deposit is set up as non-refundable. Other configurations are nevertheless possible, on request and according to your needs.
The advantages of extra charge for returnable bottles
Whether non-refundable, refundable or reimbursed in vouchers, for example, depositing has several advantages. Firstly, the extra charge for returnable bottles illustrates an underlying trend in which the catering industry is a stakeholder.
On the one hand, it is a question of meeting the aspirations of consumers who are aware, empowered and increasingly demanding. On the other hand, many states have committed to reducing their environmental impact through stricter rules. Legislation on packaging, containers and packaging will therefore naturally continue to tighten.
Synonymous with saving resources, the deposit also promotes your brand's commitment to sustainable and more respectful practices. In the future, the bottle deposit system may also be extended to other containers: dishes, jars, etc.
The introduction of a supplement for returnable bottles can effectively be transposed to other types of products. How can we continue to innovate to promote the ecological transition of restaurants and the good practices of their customers?
The bottle deposit feature is available to all LivePepper customers. To learn more about how it works and its degree of customization, please contact our team and ask your questions (contact@livepepper.com).