Pickup times that adapt to your organization
With Collection, your restaurant customers pre-order in advance and schedule their pickup time. All they need to do is to select the "Collection" option which appears in their basket. Then, they can choose their timeslot, like here: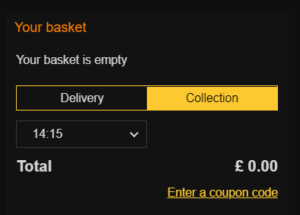 This choice of schedule is a form of tacit commitment: the customers to pick up their orders at the scheduled time, and that of the restaurant to prepare them on time!
For restaurant owner, ordering to take out therefore requires a little organization in terms of inventory and preparation. Your "Collection" option is configured to offer, by default, 15-minute time slots: 12:00, 12:15, 12:30, etc.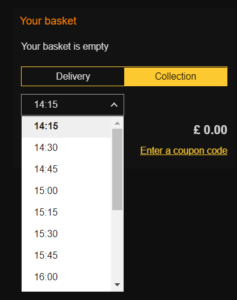 Do you prefer to offer slots every 5 minutes? Our LivePepper technical team can change this default interval. It can be adapted to your organizational constraints and your activity flow (this change of configuration is however chargeable).
On your site, you define your payment methods
You are also the one in charge of how your customers pay for their Collection orders:
They can pay during picking up, according to the payment methods you have configured: credit card, cash etc.
They can also pay online, with the options you put at their disposal: Ingenico, PayPal, Stripe, etc.
In the example below, the customer has the choice between paying online by credit card or on site in cash. This is what appears when he/she finalizes his/her Collection reservation: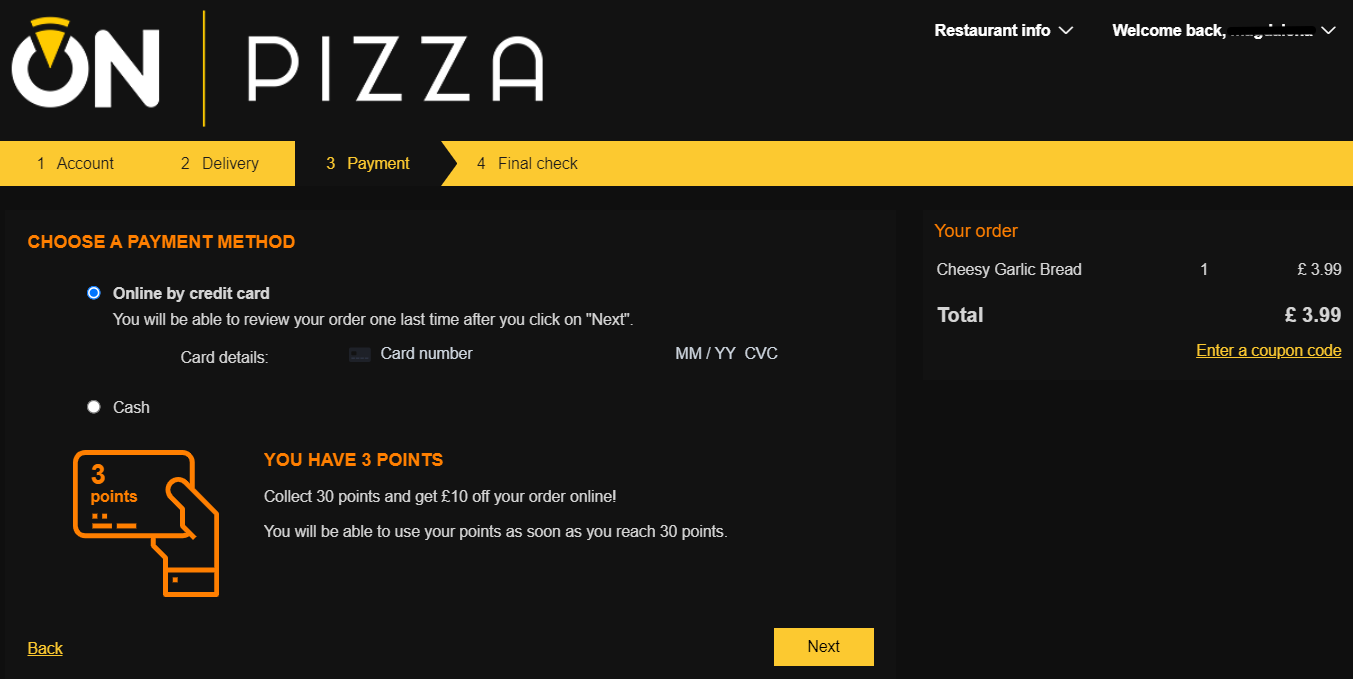 Ingenico, Stripe, PayPal,… LivePepper provides you with various solutions to manage online payment. All have the same purpose: to centralize and simplify the collection of orders paid by your customers from your restaurant's website.
Choose the most adapted formula to your needs
With your LivePepper, you can choose from among different Collection formulas the one that best meets the needs of your restaurant: collection only, collection and delivery… From the basic subscription plan to get started with the complete solution , mobile app included, all are offered without engagement.
Would you like to "upgrade" your online ordering site? Whatever subscription you have already purchased, you can change it to a a new one at any time and without penalty. Are you starting out in collection with online pre-order? Contact the LivePepper team to learn more about the "Collection" option, its benefits and features (contact@livepepper.com).